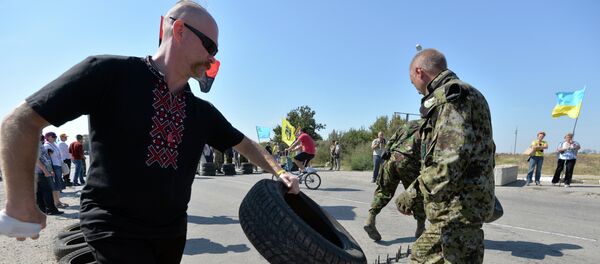 21 September 2015, 12:29 GMT
News portal Kherson.net.ua has reported that the blockade, initiated by the Right Sector and by Poroshenko Bloc Rada MPs and self-proclaimed leaders of the Crimean Tatar community Refat Chubarov and Mustafa Dzhemilov, has forced farmers in the region of Kherson to sell off their produce at prices up to ten times below what they would normally get.
The news portal explained that with produce meant for Crimea being dumped on the local market en masse by truckers turned back at the border, there is literally no point in bringing their goods to market. The oversupply and the loss of the Crimean market, combined with exorbitant gas prices, has led to a situation where the farmers "are literally feeding products to their livestock."
Ukrainian television news program Sobytiya cited local farmers enraged over the consequences of the blockade on their communities. 
"How are we supposed to live? How are we to survive? The winter is coming. If you decide to close the so-called 'border', find us an alternative market," one farmer noted. Another recalled that "earlier, Crimea took everything, gave a good price, but now we have to throw everything out –to feed our chickens and pigs with good produce. It's just not worth taking it to market."
Meanwhile, on Friday, farmers in the Kherson Region cities of Skadovsk and Golopristanskyy held protests, warning that if the government doesn't act to find markets for their spoiling stocks, they will be forced to blockade the Antonovskyy Bridge, which connects western Kherson with mainland Ukraine.
Crimean authorities have confirmed that the blockade has also negatively impacted Tatars living along the border with the peninsula, Deputy Prime Minister Ruslan Balbec noting earlier this week that he has received a bevy of letters and phone calls from Crimean Tatars complaining of "colossal losses" faced by producers following the closure of the Crimean market. Tatars are heavily involved in the trucking and taxi industries, shuttling goods and people between Ukraine and the peninsula.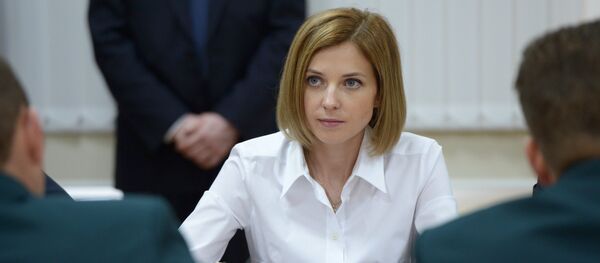 25 September 2015, 12:18 GMT
Balbec noted that "Dzhemilov and co. are creating the conditions to ensure that all goods will have to pass through them by blocking roads into Crimea, and this has led to [a situation where] farmers are forced to sell their goods for a pittance to speculators."
The deputy prime minister added that ultimately, the blockade "factually constitutes a robbery of Ukrainians who made an honest living on trade with Crimea. Unfortunately, the facts show that it is Ukrainian producers and entrepreneurs who feed their families through trade with Crimea who have suffered the heaviest blow." Balbec suggested that the blockade is a purely politicized initiative, aimed at ruining good neighborly relations between fraternal peoples.
Now set to enter its second week, the blockade, which has had limited impact on food prices, much less food security, does not show any signs of letting up. Activists and Right Sector militants are staying put in their tent encampments, organizing the provision of reserves of food and fresh water. An investigation on the ground by a reporter from RIA Novosti Ukrainia revealed that flag-holding 'activists' at the Chongar checkpoint are steadily receiving between 100 and 300 hryvnia per day, depending on if they stand at the checkpoint in the daytime or at night.
The last of the trucks laden with food left Ukrainian border checkpoints late last week, dumping their products on the local market, with only small vehicles, pedestrians and empty trucks being allowed through the Ukrainian side of the border into Crimea.
Crimean businessmen have calculated that Ukrainian food goods, constituting between 5-12 percent of goods in local markets, are being steadily squeezed out of supermarket chains, replaced with local and mainland Russian products.
Citing the results of monitoring of the local food market by Crimean officials, Krymskaya Gazeta has determined that the blockade has not led to any significant growth in prices for most goods, with goods from Russian regions rapidly stepping in to replace Ukrainian products. Given that the region's food security has not been threatened in any way, the paper concludes that it's pointless to even call the current situation a 'blockade', at least as far as the Crimean side is concerned.