MOSCOW (Sputnik) — Ukraine has earlier banned some 25 Russian airlines, including Aeroflot and Transaero, from entering the country's airspace, effective from October 25, as part of its anti-Russia sanctions.
"This measure comes as a mirror response to the unilateral ban by the Ukrainian imposed from the same date on Russian air carriers in violation of existing norms and regulations in the sphere of air transport," the ministry said in a statement.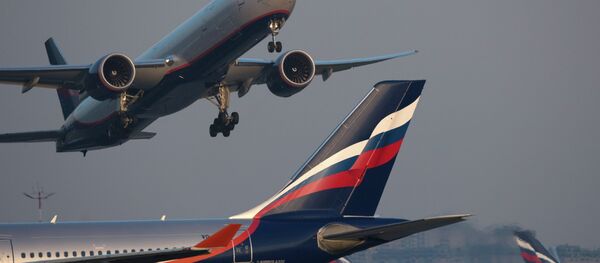 28 September 2015, 12:54 GMT
Russia's flagship commercial airline Aeroflot has earlier canceled ticketing to Ukraine for dates beyond October 25 when a ban imposed by Ukraine for Russian flights into the country goes into effect, according to the company's booking system.
On September 16, Ukraine announced new wide-ranging sanctions, including the blacklisting of 25 Russian airlines, two of which are now defunct. Last Friday, September 25, the Ukrainian cabinet announced the flight bans would take effect within a month.
Dozens of Russian banks, state television channels, several companies and hundreds of individuals were included in Ukraine's sanctions list.
Russian Transport Minister Maxim Sokolov said Saturday two of Ukraine's airlines will fall under Moscow's retaliatory measures immediately after official confirmation of Kiev's decision to close its airspace to Russian commercial airlines.