Hundreds of protesters gathered outside the Cereal Killer café in Shoreditch, East London, carrying pigs' heads and torches, as they scrawled "scum" on the shop window before setting fire to an effigy of a police officer.
Video footage of the attack shows around 200 masked protesters shouting angrily outside the cafe. Organizers of the protest say they are protecting the working class people of London from "dog-eat-dog economics".
"We don't want luxury flats that no one can afford, we want genuinely affordable housing. We don't want pop up gin bars or brioche buns — we want community," protesters said.
The Cereal Killer café in Shoreditch is seen as a symbol of the widening gap between rich and poor but its owners told London's Evening Standard that they are being seen as the "poster boys" of gentrification and described the attack as a "witch-hunt".
The borough of Hackney is ranked as the most deprived borough in London — and the most deprived borough nationally, according to UK charity, End Child Poverty. Yet as many as seven high-rise developments have been earmarked for Shoreditch, including hotels and luxury flats.
A 55 year old artist who attended the protest outside the café in Shoreditch after hearing about it on Facebook told the Guardian she supported the cause because she was evicted from her home after her rent doubled.
"I've lived in Shoreditch for 17 years and it's appalling what's been going on. The problem is social cleansing. There are no protections for us. The law does not protect us, only the greedy landowners."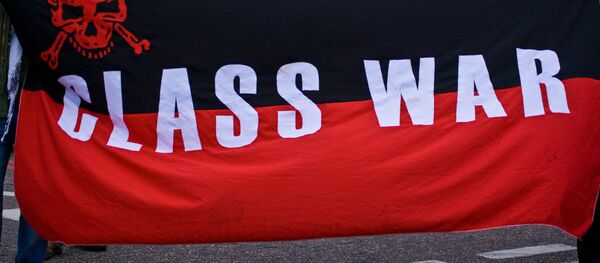 25 September 2015, 14:11 GMT
Noting the simultaneous reductions on taxes for the wealthy and cuts to welfare state spending by the British government, Greece's ex economic finance minister Yanis Varoufakis claims that the Conservative government's austerity program is a cover-up for class war.
Anti-gentrification protests have also erupted in other parts of London, in Camden and Brixton where estate agents were vandalized —Varoufakis may not be so wrong after all.
Shouldn't class war, however, be fought inside Westminster, where policies are made, and not outside an independent café in East London selling expensive breakfast cereal?