STRASBOURG (Sputnik) – The only way to resolve the ongoing migrant crisis in Europe is through action, not talking, the president of the Parliamentary Assembly of the Council of Europe said Monday.
"Today we must act, it's no use to continue to talk and talk," Anne Brasseur said at the opening press conference of the PACE autumn session.
Brasseur stressed that saving people's lives, as well as providing refugees with shelter, should be a priority for the bloc.
"Any person arriving on the territory of our 47 member states is entitled to the same fundamental rights guaranteed by the European Convention on Human Rights," Brasseur said.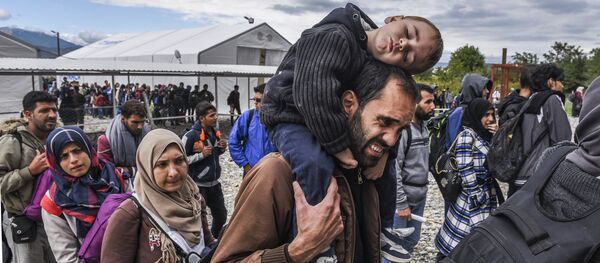 28 September 2015, 11:32 GMT
The European Union is trying to cope with a massive refugee crisis, as hundreds of thousands of people flee conflict-torn regions, such as Syria, seeking asylum in the bloc. According to the European Commission, more than 500,000 asylum seekers have entered the European Union since the beginning of 2015.
More than 2,500 refugees drowned as they tried to cross the Mediterranean Sea to reach the bloc this year alone, according to the International Organisation for Migration.