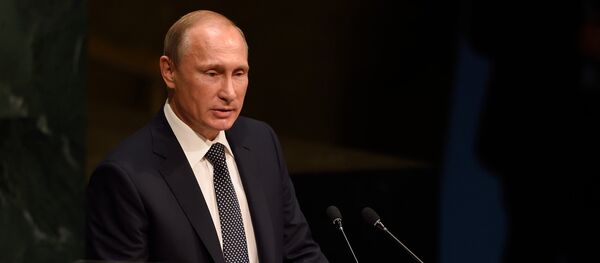 29 September 2015, 02:55 GMT
WASHINGTON (Sputnik) – Russian President Vladimir Putin in his UN General Assembly speech upheld the importance of national sovereignty to protect countries from being destabilized and toppled in the name of such causes as "democracy" and "human rights," US experts told Sputnik.
"The most important point Putin made was about respecting sovereignty. He suggested it [should] actually be respected," anti-war activist David Swanson, director of WorldBeyondWar.org and campaign coordinator for RootsAction.org told Sputnik on Monday.
Swanson praised Putin for seeking a peaceful path of compromise and negotiation to end the four-year-long civil war in Syria, in which at least 250,000 people have been killed and 11 million made homeless.
"[The Russian leader] did very well to support the multilateral talks on Syria," Swanson said, adding that he found Putin's proposal for a conference to seek a political solution "very encouraging."
The activist also welcomed the Russian president's condemnation of aggressive North Atlantic Treaty Organization (NATO) policies in Eastern Europe.
"[Putin] did very well to object to the expansion of NATO into Eastern Europe, Ukraine and to draw attention to the [2014] coup in Ukraine," Swanson said, welcoming Putin's address to the UN General Assembly as a "very encouraging presentation."
OBAMA'S CALL FOR VIOLENCE MET WITH SILENCE
Swanson contrasted Putin's speech favorably with US President Barack Obama's presentation, saying that Obama maintained that peace was impractical and claimed that violence and war were needed.
Obama, Swanson pointed out, "called for the violent overthrow of the sovereign government of Syria."
"This is a speech that was greeted by dead silence except for his remarks about lifting sanctions on Cuba," he said.
Analyst Ivan Eland of the Independent Institute agreed that the Russian president had proposed a practical and constructive way forward to try and end the Syrian crisis.
"Creating an 'anti-terrorism' coalition in Syria is possible and is better than the disjointed effort now being undertaken," he told Sputnik. "Without better ground forces in both Syria and Iraq, bombing will probably only create more terrorists, as US data indicated that it has."
PUTIN'S SUPPORT FOR MIDDLE EAST GOVERNMENTS ENCOURAGING
Eland also praised the realism of Putin's call to support the legitimate governments in Iraq, Libya, and Syria.
Re-establishing a credible central authority in them while allowing for autonomy for various groups "will attenuate support for [the Islamic State] and other militants," he said.
Eland also welcomed Putin's warning that Washington's blind ideological support for the principle of democracy across the Middle East was destabilizing the entire region.
"The United States is trying to bring democracy to Syria, but similar efforts have been an abysmal failure in Afghanistan, Iraq, and Libya," he pointed out. "Learning this lesson and keeping Assad to govern a rump Syria will probably bring more stability than getting rid of him."
Whereas Sunni Arab states are fostering IS by design, the United States is doing so out of incompetence, Eland said.
After delivering their addresses at the UN General Assembly, Putin and Obama held a closed-door bilateral meeting in New York on Monday afternoon. According to the White House, the two leaders spent half of the talks discussing Ukraine, while the other half was devoted to Syria. Disagreements over what role Assad should play in the Syria crisis resolution were not overcome, a senior US administration official told journalists after the talks.