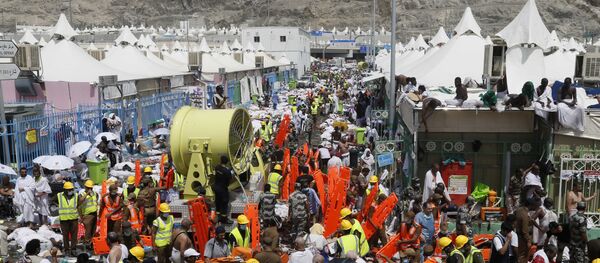 24 September 2015, 08:24 GMT
Riyadh spares no expense in its bombing Yemen, the poorest Arab state, into submission, while turning a deaf ear to repeated pleas to bring an end to the Yemeni humanitarian catastrophe, Vijay Prashad, Director of International Studies at Trinity College, points out. He adds that this is hardly surprising given Saudi Arabia's systematic disdain for the lives of thousands of ordinary Muslim pilgrims.
Backed by Washington, Saudi Arabia is spending billions of dollars on its military campaign in Yemen. While the carnage goes on, Riyadh remains unpunished for its atrocities by it successfully blocking every UN attempt to launch an official investigation.
"…while Yemen burned, two columns of Hajj pilgrims ran into each other in Mina, Saudi Arabia, on the first day of the Id al-Adha. The Saudi royal family, known as the Custodian of the Two Holy Mosques, is responsible for the well-being of pilgrims who come on what has become the largest annual migration," Vijay Prashad noted in his column.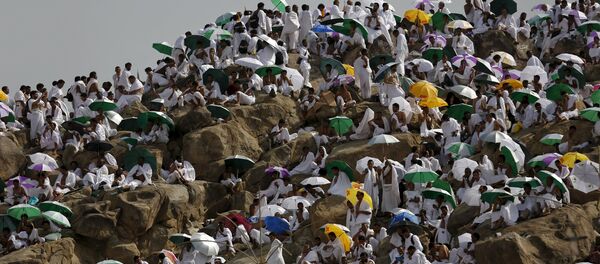 24 September 2015, 15:29 GMT
Incredible as it may seem, Saudi Arabia suggested that pilgrims could have caused the deadly stampede themselves by not following instructions by the relevant authorities. However, survivors told journalists that Saudi's response to the tragedy was "too little, too late," stressing that Saudi rescuers arrived almost two hours after the incident.
"These columns ran into each other because the police blocked off key roads… Early indications suggest that the authorities had closed the roads to facilitate VIP pilgrims. So much of Mecca, like Saudi Arabia in general, is designed for the VIP and the VVIP. The Custodian favors the powerful," Prashad pointed out.
Embarrassingly, Riyadh provides little if any care to ordinary people and it is not the first time that Saudi Arabia has demonstrated disdain for the lives of Muslims.
"In 1990, almost 1500 people were killed in a stampede near the very spot of this tragedy. The deaths came in a punctual fashion — 1994, 1998, 2001, 2003, 2004, 2006. A few weeks ago, a crane fell into the Masjid al-Haram, killing over a hundred people," the journalist emphasized, nailing Riyadh for obvious negligence.
Instead of pouring money into the war, Riyadh should use its wealth to make the Hajj safe not only for the VIPs, but for millions of ordinary Muslims "who save money over decades to make this holiest journey to the place toward which they pray," Prashad stressed.
In an address to the 70th session of the UN General Assembly Iranian President Hassan Rouhani urged Saudi Arabia to grant access to the investigation of the stampede that resulted in the death of at least 769 pilgrims from 18 countries.