Although the Pentagon has advertised its B61-12 as a life extended version of the standard strategic US nuclear bomb, it is in fact a brand new nuclear weapon with vastly improved military capabilities, and the most expensive nuclear bomb project ever, Engdahl, an American-German economic researcher, emphasizes, citing Hans M. Kristensen, Director, Nuclear Information Project at the Federation of American Scientists.
The deployment of new nuclear weaponry in Germany by Washington "is no minor affair as it brings the likelihood of nuclear war by miscalculation between the United States and Russia one giant step closer and it makes the German Republic a direct high-priority target in any such escalation. Ashton "Ash" Carter and the war-hawks running the US Defense Department appear to be losing all contact with reality," Engdahl noted in his article for New Eastern Outlook.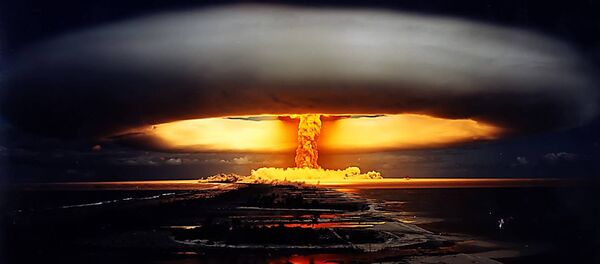 24 September 2015, 17:32 GMT
On July 1, 2015 the Pentagon tested its new B61-12 at Tonopah Test Range in Nevada, prompting sharp criticism Russia.
Engdahl quoted Russian Deputy Defense Minister Anatoly Antonov, who pointed out that "the atomic bomb, which was tested, is a dual purpose device. It can be both an element of strategic offensive weapons — when delivered by heavy bombers — and an element of non-strategic nuclear weapons when delivered by tactical aircraft."
To complicate matters further, on September 18 a report claiming that the Department of Defense is currently "reviewing and updating its contingency plans for armed conflict with Russia" was released by the US reputable media source. The new US defense plan purportedly included the use of so-called "tactical" nuclear weapons against Russia.
Nearly simultaneously, on September 20 German Air Force Eurofighter Typhoon fighter jets began patrolling the airspace of the three Baltic States — in close proximity to Russia's borders — "with full ammunition loads."
"German Air Force's Inspector General Karl Müllner stated that the decision to fly fully armed was designed to "motivate" German pilots. He didn't elaborate on which Air Force might become the enemy, nor what his pilots were being motivated for. The new B 61-12 nuclear bomb could also be fitted to German Tornado fighter jets. Perhaps that would really motivate the German pilots," the researcher noted gloomily.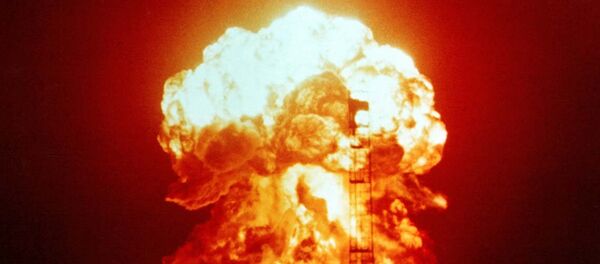 15 September 2015, 15:36 GMT
Engdahl also highlighted that in July 2015 the incoming US Chairman of the Joint Chiefs of Staff General Dunford branded Russia as America's "existential threat."
The researcher also called attention to a peculiar remark made by Pope Francis during his speech at Havana's Jose Marti Airport on September 19.
The Roman pontific noted that the "world… needs reconciliation amidst this Third World War." Curiously enough, the "third world war" phrase "was never part of the original redaction of the Pope's speech," the researcher underscored, quoting Brazilian political analyst Pepe Escabar.
Is it a mere coincidence?
The question has not been answered yet.