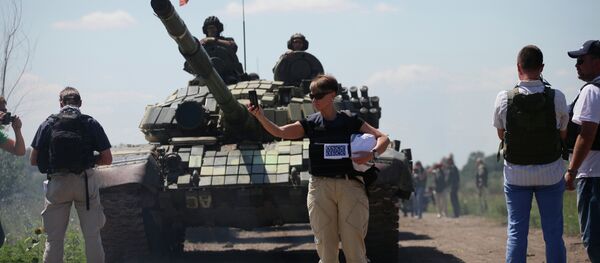 30 September 2015, 04:12 GMT
MOSCOW (Sputnik)
–
The lack of communication between the Ukrainian authorities and the self-proclaimed republics in the east of the country is preventing the sides from progressing to the next level in the execution of the peace agreement, Kremlin spokesman Dmitry Peskov said Wednesday.
"In any case, whether we are talking about the special status of the region, amnesty or [local] elections – there is always the stipulation that it must be done in agreement with representatives of Donbass," Peskov told reporters.
The Kremlin spokesman said the best way of overcoming the impasse would be for the sides to strictly adhere to the unambiguously worded Minsk agreements, without using their own interpretations.
"So far, unfortunately, we can say that the parties have not moved to this whole new level and Kiev does not maintain any contact with the representatives of Donbass," Peskov noted.
He said that, in addition to the local elections in the Donetsk and Luhansk people's republics, scheduled to take place in the next two months, the Minsk deal outlines a number of key points that cannot be ignored.
Government-led forces and pro-independence militias in Ukraine have renewed their adherence to a full ceasefire this month and have signed an agreement to pull back tanks and weapons of under 100-mm in caliber from the contact line.