Bahrain's Ministry of Foreign Affairs said it had also declared the Iranian charge d'affaires in Bahrain a "persona non grata" and gave him 72 hours to leave the country.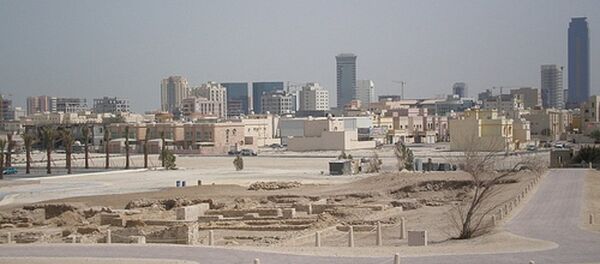 11 September 2015, 03:38 GMT
In a statement on its website, the ministry said it recalled the ambassador because of "continued Iranian meddling in the affairs of the kingdom of Bahrain… in order to create sectarian strife and to impose hegemony and control."
Iran supports acts of "sabotage and terrorism" in the country, the statement added, accusing Tehran of forming and arming "terrorist groups" and providing them with refuge.
On Wednesday, Bahraini authorities said they had uncovered a large stash of weapons and arrested a number of people suspected of having links with Iran and Iraq. The cache included 1.5 tons of C4 explosives and other explosive material, as well as automatic rifles, pistols and hand grenades, the ministry said.
In August, Bahrain arrested five people suspected of links with Iran in connection with a bombing that killed two policemen in the island state.
Bahrain, with a majority Shiite Muslim population ruled by a Sunni dynasty, has suffered from unrest since the Arab Spring uprising in 2011. The kingdom frequently accuses predominantly Shiite Iran of meddling in its affairs.