"What Britain and France are doing in the Syrian airspace flies in the face of international law and is a flagrant violation of the national sovereignty of the Syrian Republic," Walid Muallem said.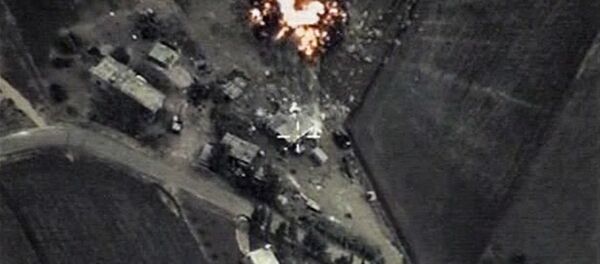 1 October 2015, 10:44 GMT
Meanwhile, Russia's Foreign Minister Sergei Lavrov dismissed as "untrue" a statement earlier made by his US counterpart John Kerry about the US-led coalition's actions in Syria being fully in line with the UN Charter.
"Today I said to John Kerry that, unlike in the case with Iraq, which invited the coalition to move in, there has been no such invitation from Syria, nor has the coalition asked for any such permission from the UN Security Council… But he still told the Council that the coalition's actions in Syria were fully in line with the UN Charter, namely its Article 51, which envisages the right to collective self-defense. Article 51 pertains exclusively to a situation where a concrete state requests outside protection," Lavrov said, when summing up the results of his talks with the US Secretary of State.
"The coalition has received no such request from the Syrian government, while Russia has," Lavrov added.
Briefing reporters on Wednesday, a Defense Ministry spokesman said that the Russian air force had flown twenty sorties targeting ISIL military equipment, communication facilities, arms depots, ammunition and fuel supplies — and did not hit civilian infrastructure or areas nearby.
President Vladimir Putin had earlier asked the Federation Council, the upper house of the Russian parliament, for permission to use Russian armed forces abroad. 
The request was granted by a unanimous vote and the Defense Ministry later said that Russian warplanes had bombed ISIL targets on Syrian territory.