Though someone may not like it, but neither the Syrian nor the Ukrainian crisis cannot be resolved without the "head of the Kremlin," German newspaper Die Zeit wrote.
Such a power like Russia cannot be hidden "in quarantine" and its participation in the resolution of the Syrian crisis was inevitable. The fact that Russia's isolation from the West, which started after Crimea's entry into Russia and accusations of Russia's alleged involvement in the Eastern Ukraine, will not last forever, was also clear from the outset, the newspaper reported.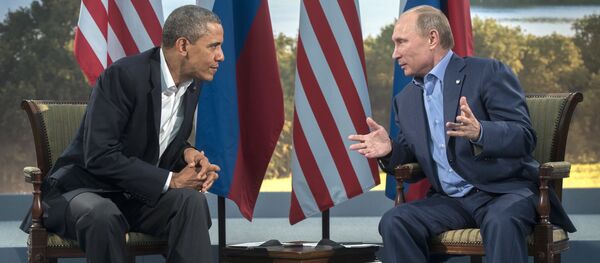 1 October 2015, 15:01 GMT
First, during the negotiations over Iran's nuclear program, it became clear how useful Russia may be by the settlement of disputed issues. Second, it became apparent how difficult it would l be to find a solution to the Syrian crisis without Russia.
Russia's military participation in the resolution of the Syrian crisis has become its "triumphal returning from the "diplomatic "angle," said ORF-correspondent Andreas Pfeiffer, adding that Russian President Vladimir Putin is two turns ahead of other political leaders in the current geopolitical chess game.
"Of course, this is a triumphant return for Putin, who has been in the diplomatic corner since the beginning of the Ukrainian crisis. And once again it seems that the Russian president is two turns ahead of the rest in the geopolitical chess game," he said.
Russia as well as Western countries are seeking a greater involvement on the part of the Syrian President Bashar al-Assad. The question of whether the US and Russia will be able to come to a compromise on how and in what extent this involvement should take place remains open. 
Anyway, military solution alone is not an alternative. The most important way to resolve the crisis are long and hard diplomatic negotiations, Die Zeit wrote.