According to the Britain-based Syrian Observatory for Human Rights, 12 Islamic State militants were killed Thursday in Russia's first airstrikes carried out in the group's de facto capital in Syria.
"Last night, Russian strikes on the western edges of Raqqa city, and near the Tabqa military airport, killed 12 IS jihadists," Abdel Rahman, head of the observatory, told AFP.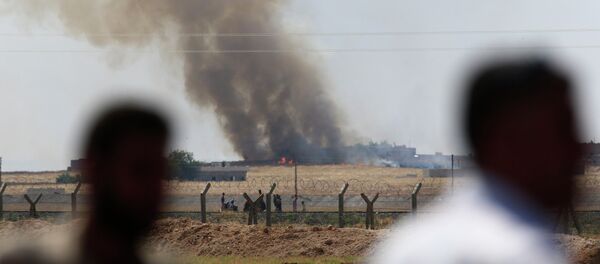 2 October 2015, 20:32 GMT
He said residents were staying indoors, and IS "has started to implement a plan to turn off electricity in a number of areas of the city when planes are overhead."
A Russian airstrike on Thursday on also destroyed a mosque in the town of Jisr al-Shughour, which was captured from government forces by an alliance of Islamist insurgents earlier this year, activists said.
On Friday, Moscow said its latest strikes had hit 12 Islamic State targets, mostly in western and northern parts of the country.
The Russian Defense Ministry said warplanes had flown 18 sorties hitting targets that included a command post and a communications center in the province of Aleppo, a militant field camp in Idlib and a command post in Hama.