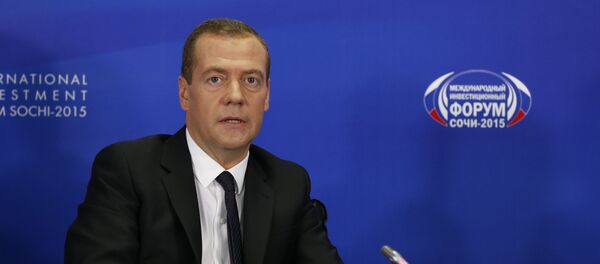 2 October 2015, 14:01 GMT
MOSCOW (Sputnik) — It is unlikely that imported goods will be entirely banned in Russia, Russian Prime Minister Dmitry Medvedev said Friday.
"I'd like to point out that we are not talking about a total import substitution," Medvedev said at the International Investment Forum Sochi-2015.
He added that a complete import substitution could give a chance to Russian producers to step in but could also lead to a decline in quality and a rise in prices.
Medvedev said that Russian goods should not be more expensive and should be of equal quality to those they are replacing.
Import substitution became relevant for Russia after the West imposed several rounds of sanctions against Moscow, citing an alleged involvement in the Ukraine conflict. The restrictions targeted Russia's banking, energy and defense sectors.
The suspension of cooperation with Western nations prompted Russia to begin an import substitution program.