UNITED NATIONS (Sputnik) — Earlier in the day, the hospital accommodating some 200 people was bombed leaving at least 19 dead, 37 injured and dozens missing.
"This event is utterly tragic, inexcusable, and possibly even criminal. This deeply shocking event should be promptly, thoroughly and independently investigated and the results should be made public. The seriousness of the incident is underlined by the fact that, if established as deliberate in a court of law, an airstrike on a hospital may amount to a war crime," Zeid said in a statement.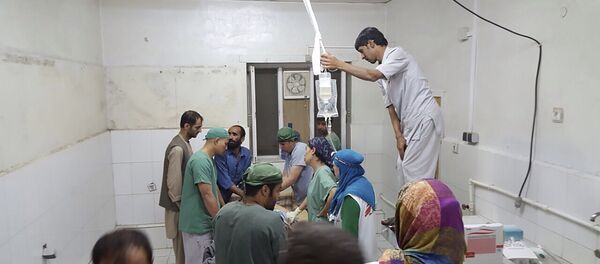 3 October 2015, 16:52 GMT
According to the MSF hospital, the bombing continued for more than 30 minutes after American and Afghan military officials in Kabul and Washington were first informed of the incident.
NATO said in a statement that US forces conducted an airstrike in Kunduz at around the same time — just after 02:00 a.m. local time on Saturday.
Washington and Kabul have launched a joint investigation into the incident.