WASHINGTON (Sputnik) — Elissa Smith said on Friday:
"I will not speculate on US reactions if Russia were to actively target US trained Syrian opposition. However, we have not taken any consideration off the table."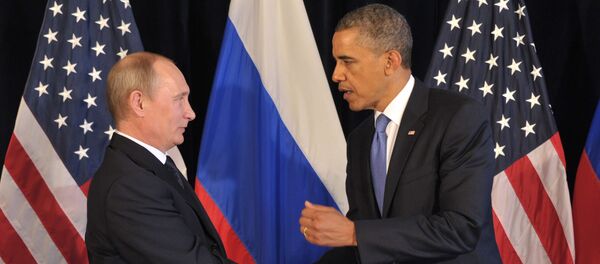 2 October 2015, 20:40 GMT
According to US media reports, Pentagon is weighing the use of military force to protect US-trained opposition fighters.
Smith noted that the United States is continuing to review the Russian airstrikes in Syria and added she does not want to get ahead of that process.
"That said, Russia announced its campaign as being against ISIL [Islamic State] and we have yet to see that this is the case," she said.
Smith also noted Washington has made it clear that "we would be seriously concerned by any actions by them that risk coming into conflict with our counter-ISIL operations in Syria. That is why our militaries are undertaking practical discussions."
Smith repeated the Obama administration position that President Bashar Assad must not be allowed to re-establish his full authority over Syria, and stated the US government ruled out any solution imposed by Russia through military means.
"There will be no end to the war in Syria without a moderate, Sunni-opposition that can participate in a political resolution," she said.
Smith added that Washington would welcome Russian actions against the Islamic State as long as it also followed the US strategy of creating a new government in Syria.
On Wednesday, Russia started carrying out pinpoint airstrikes on ISIL targets in Syria. According to the Russian Defense Ministry, during the first two days of the operation the country's aircraft hit over 10 targets, among them an explosives factory, an arms depot and an ISIL coordination center. The targets were chosen based on intelligence, including air surveillance, gathered and verified by Russia and Syria.
On Thursday, Syrian Ambassador to Russia Riad Haddad confirmed that Syrian Army strikes, supported by the Russian Air Force, were carried out against armed terrorist organizations and not political opposition factions or civilians. The ambassador added that the Syrian Army has at its disposal the exact coordinates of terrorist group locations in the country.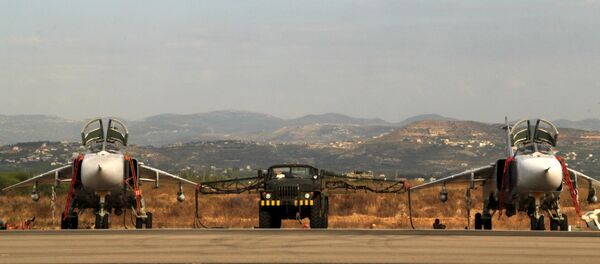 3 October 2015, 00:12 GMT
International law (the UN Charter) permits the use of force in a foreign country only if it has been authorized by the UN Security Council, as an act of self-defense, or at the request of the country's authorities.
Russia launched airstrikes on ISIL targets in Syria following a request from President Bashar Assad. Since September 2014, a US-led coalition has been bombing ISIL positions in Syria without the approval of the UN Security Council or Syrian authorities. The United States has also been training "moderate opposition forces" in Syria, calling for Assad's resignation.