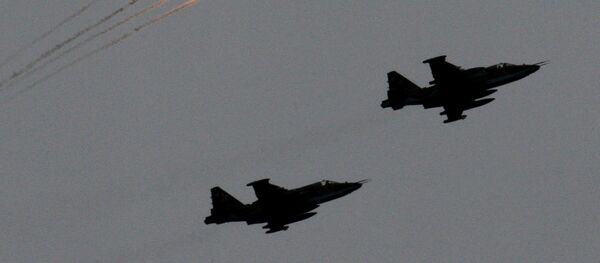 3 October 2015, 08:57 GMT
The Russian jets deployed in Syria carried out over 60 combat missions to destroy more than 50 positions of the Islamic State (ISIL) militants, the head of the Main Operations Directorate of the Russian General Staff said Saturday.
The Russian Air Force has undermined the material base of ISIL and has significantly reduced the militants' combat potential over the three days of the military operation, Lt. Gen. Andrei Kartapolov told reporters.
Militants are leaving their positions in Syria, some 600 foreign mercenaries are trying to get to Europe following airstrikes conducted by the Russian Air and Space Forces.
"The intelligence has captured that militants are leaving the areas under their control," Kartapolov said. "Panic and desertion have begun in their ranks. About 600 mercenaries have left their positions and are trying to get to Europe."
The United States has notified the Russian Defense Ministry that there are only terrorists in the areas of Russia's military operation against the Islamic State (ISIL) militant group in Syria.
"The Americans have informed us during contacts that there was no one except terrorists in this region," Lt. Gen. Andrei Kartapolov told reporters.
Russia announced in advance the beginning of its airstrikes against the Islamic State positions in Syria, with the US defense attache in Iraq being among the first to have been informed on Wednesday.
"The US military attache in Iraq… was one of the first to have been informed on September 30 by our representative in Baghdad," Lt. Gen. Andrei Kartapolov told reporters.
Kartapolov added that "this information was passed to our foreign colleagues not only through the Defense Ministry channels but also through the Foreign Ministry."
The Russian Aerospace Forces will continue to conduct airstrikes on Islamic State militant group positions in Syria with increased intensity.

"We will not only continue conducting our airstrikes, but will also increase their intensity," Andrei Kartapolov said.
Kartapolov noted that the Russian airstrikes first of all target "command and control centers, ammunition and explosives warehouses, communication centers, mini-factories for the production of weapons of suicide bombings and militant training camps."
Russia launched airstrikes on ISIL targets in Syria following a request from President Bashar Assad. Syria has been in a state of civil war since 2011. The country's government is fighting a number of opposition forces, as well as radical Islamist militant organizations, including the Islamic State.