ANKARA (Sputnik) – Moscow told Ankara that the Russian aircraft that violated Turkish airspace was a mistake and that it would not happen again, Turkish Prime Minister Ahmet Davutoglu said Monday.
Earlier on Monday, the Turkish Foreign Ministry said a Russian military aircraft had violated the country's airspace on October 3 from Syria.
"We contacted Russia through diplomatic channels and were told that Russia respects Turkey's borders and that incident occurred because of misunderstanding, but won't happen again," Davutoglu said in an interview aired by Turkey's Haberturk television channel.
The Russian aircraft left Turkish airspace after being intercepted by two Turkish F-16 fighter jets.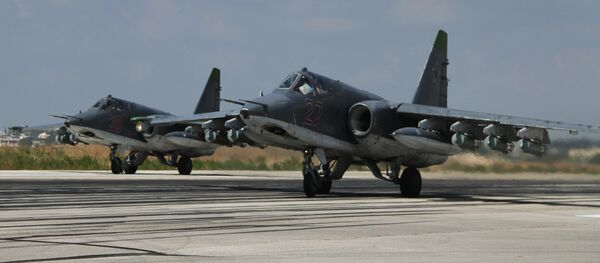 5 October 2015, 09:09 GMT
Russian Ambassador to Turkey Andrey Karlov was summoned to the Turkish Foreign Ministry earlier in the day over the incident.
The Turkish foreign minister voiced a protest over the airspace violation in a phone conversation with his Russian counterpart Sergei Lavrov.
Meanwhile, NATO Secretary General Jens Stoltenberg said Monday he would convene an extraordinary meeting of the North Atlantic Council to discuss Russia's military activity in Syria and "unacceptable violations" of NATO-member Turkey's airspace.
"I just met with the Foreign Minister of Turkey Feridun Sinirlioglu to discuss the recent military actions of the Russian Federation in and around Syria. Including the unacceptable violations of Turkish airspace by Russian combat aircraft," Stoltenberg said in a statement.
The NATO chief said he made clear during the talk that the alliance remains "strongly committed" to Turkey's security, and a meeting of the North Atlantic Council, NATO's principal political decision-making body, would be held later on Monday to assess the situation.
"I call on Russia to fully respect NATO airspace and to avoid escalating tensions with the Alliance. I urge Russia to take the necessary steps to align its efforts with those of the international community in the fight against ISIL," Stoltenberg's statement reads.
On September 30, Russia launched airstrikes on ISIL targets in Syria, following a request from the country's internationally recognized government. Since September 2014, a US-led coalition has been bombing ISIL positions in Syria without the approval of the UN Security Council or Syrian authorities.