No, it wasn't General John Campbell's admission that the US Air Force actually did bomb the Médecins Sans Frontières Hospital in war-ravaged Kunduz with a Lockheed Martin AC-130 fighter. It wasn't the committee's gentle shifting of blame to Afghan government forces for calling in the attack. It wasn't even the attempt by Republican Senator Tom Cotton, who spent 6 years serving in Afghanistan, to blame the airstrike on the Taliban.
Democratic Senator Kirsten Gillibrand of New York asked General Campbell about accusations that the Afghan military and police were sexually abusing young boys, known as Bacha Bazi, and that US soldiers had attempted to report cases of child abuse but were rebuffed and told to leave it alone. 
Campbell noted that, in particular instances between 2010 and 2012, he was not the head of the US forces in Afghanistan. But Campbell's profession of ignorance wasn't even the most ridiculous part of the hearing. 
The US has been in Afghanistan so long, the country's leaders are either suffering amnesia to things that have happened, or are deliberately — and conveniently — forgetting them. 
The "Kunduz Dyncorp Problem" 
On December 2, 2010, the Guardian published a State Department cable sent to WikiLeaks from now imprisoned whistleblower Pvt. Chelsea Manning. The confidential June 24 2009 cable from US Ambassador to Afghanistan Karl Eikenberry disclosed that Afghan Interior Minister Hanif Atmar expressed deep concern that lives could be endangered if news that Afghan police trainers from US contractor DynCorp were hiring Bacha Bazi "dancing boys" to perform for them around Kunduz:
1. (C) SUMMARY: Assistant Ambassador Mussomeli discussed a range of issues with Minister of Interior (MoI) Hanif Atmar on June 23. On the Kunduz Regional Training Center (RTC) DynCorp event of April 11 (reftel), Atmar reiterated his insistence that the U.S. try to quash any news article on the incident or circulation of a video connected with it. He continued to predict that publicity would "endanger lives." He disclosed that he has arrested two Afghan police and nine other Afghans as part of an MoI investigation into Afghans who facilitated this crime of "purchasing a service from a child." He pressed for CSTC-A [Combined Security Transition Command — Afghanistan] to be given full control over the police training program, including contractors. Mussomeli counseled that an overreaction by the Afghan goverment (GIRoA) would only increase chances for the greater publicity the MoI is trying to forestall.
KUNDUZ RTC DYNCORP UPDATE
4. (C) On June 23, Assistant Ambassador Mussomeli met with MOI Minister Hanif Atmar on a number of issues, beginning with the April 11 Kunduz RTC DynCorp investigation. Amb Mussomeli opened that the incident deeply upset us and we took strong steps in response.
An investigation is on-going, disciplinary actions were taken against DynCorp leaders in Afghanistan, we are also aware of proposals for new procedures, such as stationing a military officer at RTCs, that have been introduced for consideration. (Note: Placing military officers to oversee contractor operations at RTCs is not legally possible under the currentDynCorp contract.) Beyond remedial actions taken, we still hope the matter will not be blown out of proportion, an outcome which would not be good for either the U.S. or Afghanistan. A widely-anticipated newspaper article on the Kunduz scandal has not appeared but, if there is too much noise that may prompt the journalist to publish.
5. (C) Atmar said he insisted the journalist be told that publication would endanger lives. His request was that the U.S. quash the article and release of the video. Amb Mussomeli responded that going to the journalist would give her the sense that there is a more terrible story to report. Atmar then disclosed the arrest of two Afghan National Police (ANP) and nine other Afghans (including RTC language assistants) as part of an MoI investigation into Afghan "facilitators" of the event. The crime he was pursuing was "purchasing a service from a child," which in Afghanistan is illegal under both Sharia law and the civil code, and against the ANP Code of Conduct for police officers who might be involved. He said he would use the civil code and that, in this case, the institution of the ANP will be protected, but he worried about the image of foreign mentors. Atmar said that President Karzai had told him that his (Atmar's) "prestige" was in play in management of the Kunduz DynCorp matter and another recent event in which Blackwater contractors mistakenly killed several Afghan citizens. The President had asked him "Where is the justice?"
6. (C) Atmar said there was a larger issue to consider. He understood that within DynCorp there were many "wonderful" people working hard, and he was keen to see proper action taken to protect them; but, these contractor companies do not have many friends. He was aware that many questions about them go to SRAP Holbrooke and, in Afghanistan, there is increasing public skepticism about contractors. On the other hand, the conduct of the Combined Security Transition Command-Afghanistan (CSTC-A) is disciplined. Looking at these facts, he said, he wanted CSTC-A in charge. He wanted the ANP to become a model security institution just like the Afghan National Army (ANA) and National Directorate for Security (NDS), and the contractors were not producing what was desired. He suggested that the U.S. establish and independent commission to review the mentor situation, an idea he said Ambassador Eikenberry had first raised. Atmar added that he also wanted tighter control over Afghan employees. He was convinced that the Kunduz incident, and other events where mentors had obtained drugs, could not have happened without Afghan participation.
EIKENBERRY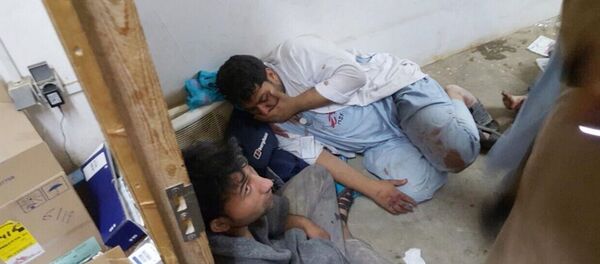 6 October 2015, 19:20 GMT
A Long, Sordid History
It's not as if the phenomenon of Bacha Bazi, and DynCorp employees taking children as sex slaves in Kunduz and elsewhere, was just disclosed to Senate members. This has been well documented for years.
PBS Frontline conducted an undercover investigation into Bacha Bazi in 2009.
And the following year, John Nova Lomax of the Houston Press wrote another expose:  
"Bacha boys are eight- to 15-years-old. They put on makeup, tie bells to their feet and slip into scanty women's clothing, and then, to the whine of a harmonium and wailing vocals, they dance seductively to smoky roomfuls of leering older men.
After the show is over, their services are auctioned off to the highest bidder, who will sometimes purchase a boy outright. And by services, we mean anal sex: The State Department has called bacha bazi a 'widespread, culturally accepted form of male rape.' (While it may be culturally accepted, it violates both Sharia law and Afghan civil code.)"
From Bosnia, to Colombia, to Afghanistan
DynCorp's history in covering up its warzone child sex slavery goes back as far as 1999, when US policewoman Kathryn Bolkovac was stationed in Bosnia as a UN peacekeeper with a post at the International Police Task Force (IPTF). The IPTF was organized by DynCorp, and Bolkovac was there to investigate sex trafficking and assaults.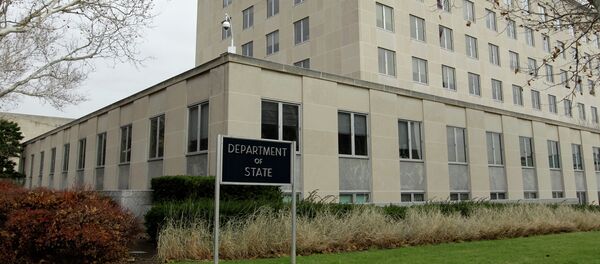 5 October 2015, 19:17 GMT
What she ultimately discovered was that other peacekeepers and police were facilitating sex trafficking and smuggling women into Bosnia, an allegation that DynCorp responded to with firing Bolkovac. DynCorp's Bosnia site supervisor filmed himself raping two women, and no employees faced legal consequences after they were transferred out of the country. Bolkovac's story is now immortalized in the film "The Whistleblower."
DynCorp aircraft mechanic Ben Johnston also sued the company after being fired after he uncovered evidence that employees were engaging in sex slavery in Bosnia.
In October 2004, DynCorp workers at Tolemaida Air Base in Colombia were caught distributing a video showing them sexually violating underage girls from the town of Melgar — a video that eventually made it to the streets of Bogota.
So it's not like this is an undocumented phenomenon, or something that can be dismissed as part of the "fog of war." 
© AP Photo / Médecins Sans Frontières
The Doctors Without Borders trauma center is seen in flames after explosions near their hospital, in the northern Afghan city of Kunduz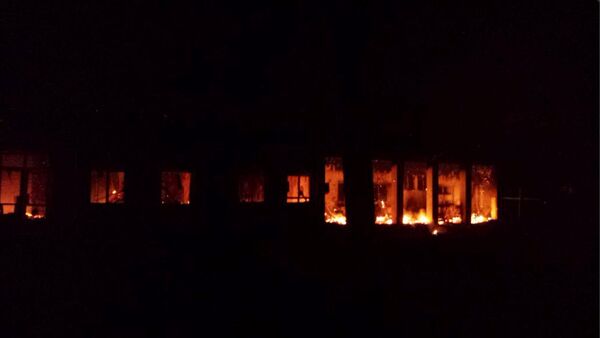 The Doctors Without Borders trauma center is seen in flames after explosions near their hospital, in the northern Afghan city of Kunduz
© AP Photo / Médecins Sans Frontières
Money Talks
Senate armed forces committee Republican majority chair John McCain of Arizona, who has previously been caught playing poker on his iPhone during a hearing on the Syrian war, and who chaired today's hearing on Afghanistan, didn't just manage to keep talk of DynCorp or the Lockheed Martin AC-130 out of today's hearing. He got his fellow Senators on his committee to give the impression that the Bacha Bazi abuse being reported by members of the US Military was a despicable behavior exclusive to the Afghans. 
That could not be further from the truth, as has been long documented. They even avoided noting how allegations of DynCorp's involvement child sex slavery with "stoned Afghan policemen" also happened to occur in Kunduz. It seems there's a lot going on in Kunduz that got glossed over on Tuesday.
John McCain and fellow armed services committee member Democrat Sidney Blumenthal of Connecticut have each taken $1,000 in political contributions for the 2016 election cycle from DynCorp.