WASHINGTON (Sputnik) — The US Senate passed the 2016 National Defense Authorization Act (NDAA) on Wednesday with enough votes to override a threatened presidential veto.
The bill passed with a final vote of 70 to 27, guaranteeing enough support in the Senate to override a veto, threatened by President Barack Obama.
The NDAA authorizes $612 billion in military spending, allocating $38 billion in overseas contingency funding.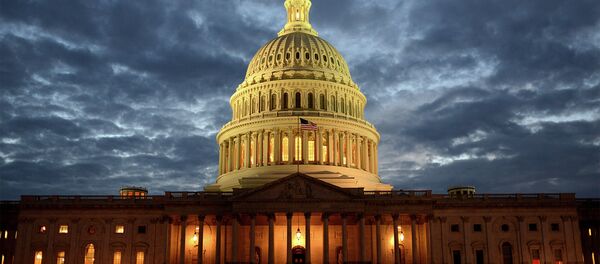 7 October 2015, 17:05 GMT
The NDAA will authorize new funds for US deployments in Eastern Europe to reassure NATO allies, and a provision authorizing the transfer of lethal weapons to Ukraine.
The bill also contains language to prohibit further transfers of Guantanamo Bay detainees to the United States and some foreign countries.
The bill uses a clever accounting move to increase defense spending while avoiding the self-imposed budget caps known as sequestration.
President Obama had threatened to veto the bill that skirts sequestration for military spending, but leaves the caps in place for spending on domestic programs.
Senate Armed Services Chairman John McCain condemned Obama's veto threat stating that at a time of increasing threats to the United States, such a veto would be foolish, misguided, cynical and dangerous.