The glass bridge in China's Yuntaishan mountains cracked on Monday after a tourist dropped a metallic water bottle on it, Chinese media reported.
The suspension bridge allows tourists to see below through it at a height of hundreds of meters. Engineers claimed that it can hold up to 800 kilograms of pressure per square meter, although that was not enough for a metallic water bottle.
"Yuntaishan Glass Bridge cracked at the end of the bridge and I heard a loud noise and felt vibrations. Then I found the glass under my feet was cracked. Everyone screamed and ran away," a user in China's Weibo social network wrote.
A much larger glass bridge was opened in September in China's Hunan province, at the Shiniuzhai National Geological Park. That bridge, spanning 180 meters above a chasm is now crammed with people, according to CCTV.
Official representatives said that several cracks appeared on the bridge as a result of an "external force." They also said that the cracks presented no danger to tourists as only the first of three layers of glass covering the bridge broke.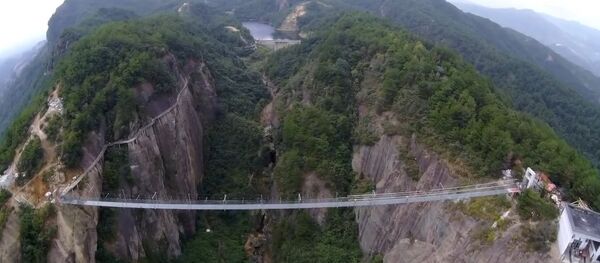 2 October 2015, 14:17 GMT
"China's first U-shaped bridge in the Yuntaishan Mountains of the Henan province at a height of several hundreds of meters cracked from the fall of a metallic thermos with water, dropped by one of the tourists," China's CCTV reported.
The bridge is closed and will be reopened when it is repaired, according to CCTV. Although it is unclear if the fix would also repair the assurance of those afraid of heights that this would not happen again.