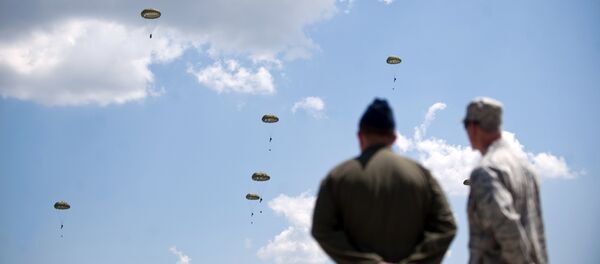 5 October 2015, 15:43 GMT
BRUSSELS (Sputnik) – NATO is concerned over intensified Russian military operations and cruise missile strikes on October 7 targeting Islamic State militant positions, NATO Secretary General Jens Stoltenberg said Thursday.
"In Syria we have seen a troubling escalation of Russian military activities. We will assess the latest developments and their implications for the security of the Alliance. This is particularly relevant in the view of the recent violations of NATO's airspace by Russian aircraft," Stoltenberg told journalists ahead of the NATO Council at the level of Defense Ministers in Brussels.
On Wednesday, Russian Defense Minister Sergei Shoigu told President Vladimir Putin that Russia had launched 26 sea-based cruise missiles from the Caspian Sea targeting ISIL positions in Syria and had destroyed all of the intended targets.
"What we have seen is a strong increased military presence of Russia in Syria. We have seen airstrikes, we have seen strikes from cruise missiles, we have seen incursions into Turkish airspace and of course all of this are the reasons for our concern and we have expressed our concern and we have also stayed in very close contact with the Turkish government and we will meet with the Turkish defense minister later on today and we will assess the situation in the meeting today," Stoltenberg said.
Stoltenberg reiterated the need for a political solution to the Syrian crisis.
"What we see is that there is a renewed need for political initiatives to find a political solution to the crisis in Syria because in the long term there is no military solution, there has to be an end to the fighting," Stoltenberg said.
The NATO chief also stated his concerns that Russia is supporting Syrian President Bashar Assad by not only striking Islamic State targets, but also other opposition military forces that have been trained by the West.
"There has to be a political solution, a transition, and my concern is that the Russians are not mainly targeting ISIS, but they are targeting other opposition groups, and they are supporting the [Assad] regime, and I call on Russia to play a constructive and cooperative role in the fight against ISIS, and not to continue to support the Assad regime because to support the regime is not a constructive contribution to a peaceful and lasting political solution in Syria," Stoltenberg added.