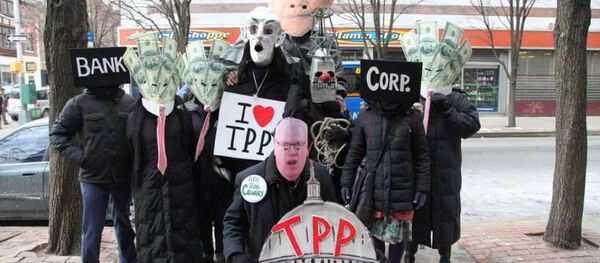 7 October 2015, 18:25 GMT
MOSCOW (Sputnik)
–
On Monday, 12 Pacific Rim countries, with the United States and Japan being the biggest economies among them, concluded the TPP free trade agreement. The deal aims to deregulate trade between the United States and the Pacific region and remove governmental oversight of trade relations.
The ratification of the agreement is pending.
"The new TPP agreement puts us in a situation where we have to review our trade relationships, and that is what we are going to do," Katie Abreu said.
Abreu noted that Brazil could at some point create a free trade zone with the Eurasian Economic Union, and that her country sought seeks to boost cooperation with Russian companies.
"I think that we have all the chance," the minister said about the free trade zone with Eurasian Economic Union.
"Both Russia and Brazil have agriculture though the areas are different. Russia produces what Brazil needs, and Brazil produces what Russia needs. So all out agreements are aimed at moving in this direction," Abreu said, stressing that that the work on striking the agreement was not yet underway.
The TPP agreement, if ratified, will introduce tariff free trade between the United States, Japan, Australia, Brunei, Canada, Chile, Malaysia, Mexico, New Zealand, Peru, Singapore, and Vietnam, with the agreement encompassing a territory representing approximately 40 percent of global gross domestic product.
There has been considerable opposition to TPP from international organizations and parliamentarians, who have criticized the deal's secrecy during negotiations, its supposed favoring of multinational corporations and its exclusion of BRICS countries.
Russia and Brazil are also both part of the BRICS group of developing economies.
The Eurasian Economic Union includes member-states Russia, Kyrgyzstan, Armenia, Belarus, and Kazakhstan. It is an integration association, which aims at streamlining the flow of goods and services between its member countries.
The exports of Brazilian meat to Russia are expected to double, the Agricultural Defense Secretary of Brazil's Ministry of Agriculture told Sputnik on Thursday.
"At the yesterday's meeting, we met at the ministry of agriculture, we decided that the export will double," Decio Coutinho said, adding that there had been great progress on this issue.
Coutinho said that Brazil was exporting pork, beef and poultry to Russia. According to Coutinho, the Brazilian Agriculture Ministry conveyed to its Russian colleagues the request of 28 meat producers in the country to be able to export their products to Russia.
On Wednesday, Russian agricultural watchdog Rosselkhoznadzor said that Brazil asked Moscow to allow 24 Brazilian producers to allow sending their products to the Russian market. Another four meat producers are already allowed to sell meat in Russia.
Last month, Rosselkhoznadzor said that Brazilian agriculture firms would like to export more of their products to Russia.
Russia has recently upped its cooperation with Brazil and other Latin American states. The two countries have boosted agricultural trade and are currently discussing cooperation in the sphere of nuclear energy.