WARSAW (Sputnik) – Poland has committed to making available the Polish Air Force's 32nd Air Base land and buildings in the central town of Lask, the Polish Land Forces' training center in the northwestern town of Drawsko Pomorskie, and three additional military complexes across the country.
"The agreement <…> can take the form of deployment of soldiers and disposal of property, equipment, supplies and materials," ministry spokesman Jacek Sonta said in a statement.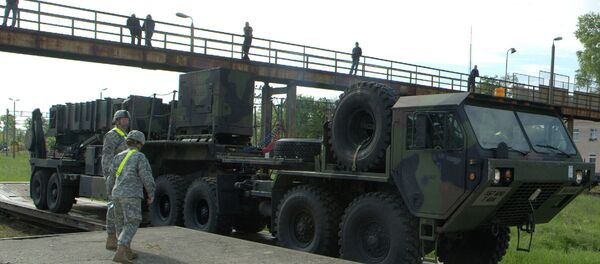 Reports of a US military base being created at one of the listed sites, the north-central town of Ciechanow, first surfaced this summer. Poland's deputy defense minister reportedly sent a letter to the town's mayor in August describing the military complex tasks as part of an agreement that came into force the previous month.
US President Barack Obama announced a $1-billion European Reassurance Initiative during his visit to Poland in June 2014. The initiative enabled the US-led NATO to increase its exercises, deploy detachments and naval forces across Europe, including Poland, this year.
The two countries maintain a Status of Forces Agreement (SOFA), under which the United States opened a temporary military base near the Russian border in 2010, set to become permanent two years later.
Poland, alongside five Central and Eastern European as well as three Baltic states, will hold a summit November 3-4 in Bucharest to push for a stronger NATO presence in their countries, including the creation of permanent military bases.
In June, the United States promised to construct military training facilities in six Eastern European nations, including Poland, to facilitate the movement of NATO troops in the region.
NATO's eastward expansion comes against the backdrop of deteriorating relations with Russia over the Crimea referendum and the Ukrainian conflict.
Russia has repeatedly dismissed Ukraine-related accusations and stated that NATO's increased activities near the country's borders undermine regional and global stability.