President Barack Obama has asked Russia not to interfere with the US fight against Islamic State militants in Syria, raising eyebrows and prompting Alexey Pushkov, head of the foreign affairs committee of Russia's lower house of parliament to point out that it is impossible to meddle in something that does not exist.
Обама призвал Россию "не мешать" борьбе США с ИГ. А Меркель признала: от этой борьбы ИГ лишь усилилось. Так можно ли мешать тому, чего нет?

— Алексей Пушков (@Alexey_Pushkov) 7 октября 2015
"Obama called on Russia not to interfere with the US fight against ISIL, while Merkel admitted that this fight added further to ISIL's clout. So how it is possible to interfere with that which does not exist?" Pushkov tweeted his followers. 
His remarks came a day after White House Press Secretary Josh Earnest quoted President Obama as urging Russia not to intervene in the international coalition's anti-ISIL operation.
"The President has made it quite clear that Russia should not be interfering with the 65-member international coalition that is seeking to degrade and ultimately destroy ISIS. We've made that quite clear," Earnest said.
Col.Gen.Viktor Bondarev:Russian #AirForce air group performed 112 strikes against #ISIS facilities in Syria since September 30 by October 7

— Минобороны России (@mod_russia) 7 октября 2015
On September 30, more than fifty Russian aircraft, including Su-24M, Su-25 and Su-34 warplanes, started precision airstrikes on Islamic State targets in Syria at the behest of Syrian President Bashar Assad.
Col.Gen.Viktor Bondarev:Almost all #ISIS vehicles used for AA systems have been destroyed during airstrike near Aleppo airfield on October 4

— Минобороны России (@mod_russia) 7 октября 2015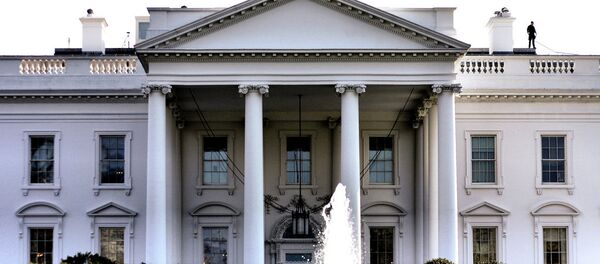 8 October 2015, 07:56 GMT
Earlier that day, the Russian upper house of parliament unanimously supported President Vladimir Putin's request to deploy units of the Russian Aerospace Forces abroad.
About 120 combat sorties have already been made during Russia's air campaign in Syria, the country's Defense Ministry said, adding that the airstrikes hit more than 110 Islamic State targets, including armored vehicles, communication centers, training camps and fuel depots.
As for the US-led coalition's airstrikes against the Islamic State group, they started in September 2014, in a move that was not authorized by the UN or the Syrian government.