LIMA (Sputnik), Liudmila Chernova — The international community should pay more attention to the current refugee influx and help the hosting developing countries handle it in a timely fashion, Director of the G24 Secretariat Marilou Uy told Sputnik on the sidelines of the annual meeting of the International Monetary Fund (IMF) and World Bank.
"For us, the G24, we were very concerned that the emerging and developing countries the ones most disproportionally affected by the influx of refugees, for example Lebanon, would have the support necessary so that they handle the influx of refugees," Uy said on Thursday.
The Syrian civil war has forced more than 4 million Syrians to flee to neighboring Jordan, Lebanon, Turkey, Iraq and Egypt, according to UN data.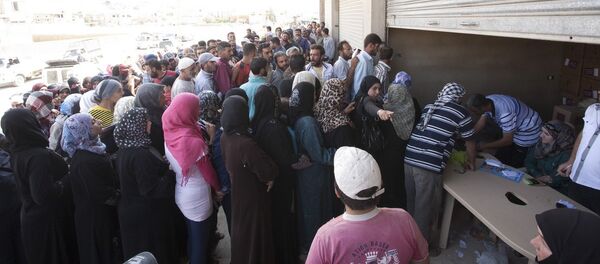 9 October 2015, 02:38 GMT
Uy told Sputnik that the G24 has "called on the global community to pay more attention to this and the timely attention and support to this."
According to the most recent estimates of EU border agency Frontex, some 630,000 migrants have arrived in the bloc since the beginning of 2015.
The migrants come from conflict-torn countries in the Middle East and Africa.
On Tuesday, the European Union stepped up its operation to curb human trafficking in the Mediterranean by launching the second phase of a marine operation aimed at seizing vessels that smuggle refugees to Europe.
A so-called Valletta Summit on migration hosted by the European Council will take place in the Maltese capital November 11-12.