MOSCOW (Sputnik) — The center-left opposition in Moldova is planning to block the parliament building next Thursday, calling on the authorities to fire several officials, leader of the Party of Socialists Igod Dodon said Friday.
"On Saturday, we shall shut down for half an hour several streets in Chisinau. We shall carry out our main strike on October 15, when the first autumn-winter parliament session starts. We shall block the exists of the legislature, and shall not let anyone out until the decisions are made," Dodon said at a protest action.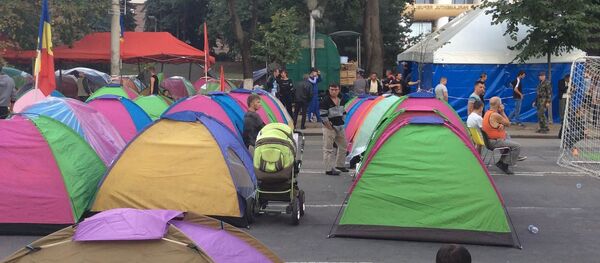 3 October 2015, 18:10 GMT
The protests in Moldova were sparked by the disappearance of more than $1 billion, or the equivalent of 15 percent of the country's total gross domestic product, from three Moldovan banks last year.
The incident negatively affected the country's banking system and led to the depreciation of the national currency, the leu.