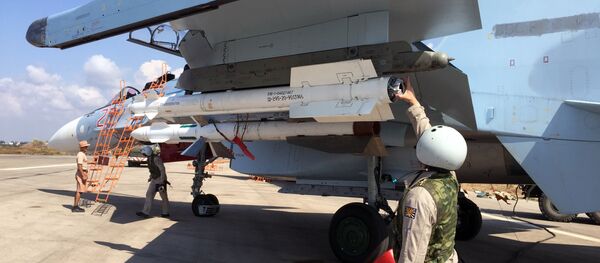 9 October 2015, 10:49 GMT
The official, who was speaking on condition of anonymity, said supplies of modern, high-powered weaponry including guided anti-tank weapons would be increased to the Arab- and Western-backed rebel groups fighting the forces of Syria's President Bashar Assad, the BBC reported on Friday.
He did not rule out supplying surface-to-air missiles to the rebels, a move resisted by many in the West for fear that they would fall into the hands of ISIL and end up being used to shoot down warplanes of the US-led coalition or even civilian airliners.
He said those groups being supplied did not include either Islamic State or al-Nusra Front, both of which are proscribed terrorist organizations.
Instead, he said the weapons would go to three rebel alliances — Jaish al-Fatah (Army of Conquest), the Free Syrian Army (FSA) and the Southern Front.
On October 2 the United States and its allies — Britain, France, Germany, Turkey, Qatar and Saudi Arabia — urged Russia to end its airstrikes against the forces of the so-called "moderate opposition" in Syria, warning this would further escalate the conflict and lead to a new weave of extremism and radicalism in the war-torn country.
Russia insists its aerial campaign in Syria exclusively targets the forces of the Islamic State terrorist group.
On September 30, Russia, acting on a request from Syrian President Bashar Assad, started launching surgical airstrikes against Islamic State targets in Syria with Sukhoi Su-25 ground attack planes, Su-24 and Su-34 bombers.