LIMA (Sputnik) – Russian Finance Minister Anton Siluanov and his Ukrainian counterpart Natalie Jaresko have failed to agree on the restructuring of Ukraine's debt to Russia, which amounts to $3 billion.
"Our colleagues from Ukraine's finance ministry said that they do not have such funds in their budget and offered that we take part in restructuring along with commercial creditors…we are not a commercial creditor, we are sovereign state, so such conditions are unacceptable for us," Siluanov told journalists after meeting with Jaresko on the sidelines of the International Monetary Fund (IMF) and World Bank summit in Lima, Peru.
The Russian finance minister said that Russia insists on Ukraine repaying the debt and added that the two sides will continue talks on the debt issue.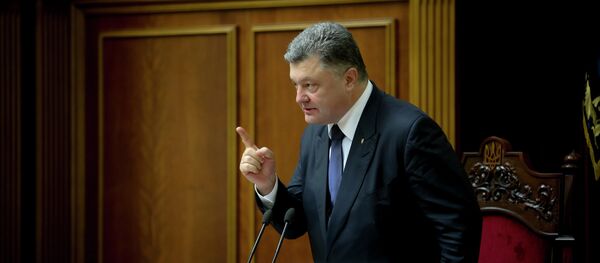 18 September 2015, 19:41 GMT
Russia issued a $15-billion loan to Ukraine in December, 2013, having bought $3 billion-worth of Ukraine's Eurobonds. The rest of the loan was cancelled following the regime change that took place in Ukraine in February, 2014.
Ukraine has been increasingly reliant on external help in order to restore its economy, which was significantly weakened by the 2014 change of power and the subsequent outbreak of hostilities in the country's southeast.
Ukraine's overall state debt amounts to $70 billion, of which about $40 billion is owed to international money lenders.
In August, Jaresko announced that Kiev had reached an agreement with its private sector creditors to restructure $18 billion of its debt.
A number of lenders have refused to join the debt restructuring agreement, including Russia, which insists that Ukraine repay the $3 billion it owes to Russia in full by the end of 2015.
Russia's finance minister warned in July that Russia could resolve the issue of Ukraine's debt repayment through court, if necessary.