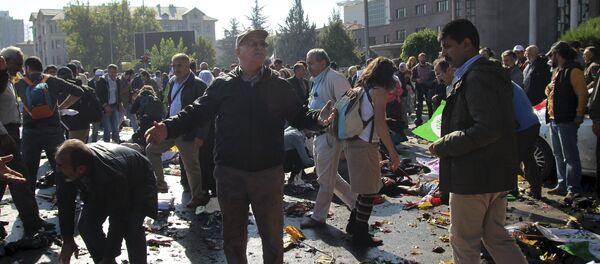 10 October 2015, 07:31 GMT
MOSCOW (Sputnik) — Earlier on Saturday, a double explosion near Ankara's railway station ahead of an anti-war protest against a surge in violence amid Turkey-Kurdish conflict killed at least 86 people and injured 186.
Putin offered his condolences to the Turkish people and President Recep Tayyip Erdogan.
"It is necessary to unite efforts in the fight against this evil. What happened in Turkey… it certainly is an impudent terrorist attack, a terrorist crime with scores of victims. And of course it is an attempt to destabilize the situation in Turkey, a neighboring and friendly country for us," Putin told Russia-1 TV channel.
He added that the attack was an "obvious" provocation during the election campaign.