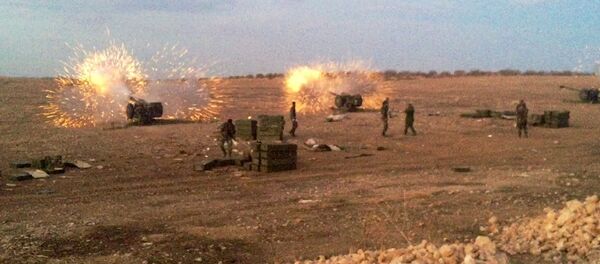 8 October 2015, 08:52 GMT
The Syrian army continued its ground operation in the territory captured by terrorists. Over the past few days it has completely cleared a small valley 25 kilometers away from the city of Idlib of Nusra Front militants, the chief of the information department of the Syrian army, General Samir Suleiman, said.
"A small valley north of the Hama province was totally liberated. As a result of our offensive, the militants left about a dozen of settlements situated here," General Samir Suleiman, political chief of the Syrian Army, told reporters.
He added that the army is now carrying out a mopping-up and demining operation in the valley. He did not rule out that some of the villages can still be an ambush with snipers or separated from the main forces of the rebels hiding there.
"In some cities, in particular in al-Bahsa, underground tunnel networks dug by terrorists have been found."
According to Samir Suleiman, the area was controlled by Nusra Front, an al-Qaeda affiliate group in Syria.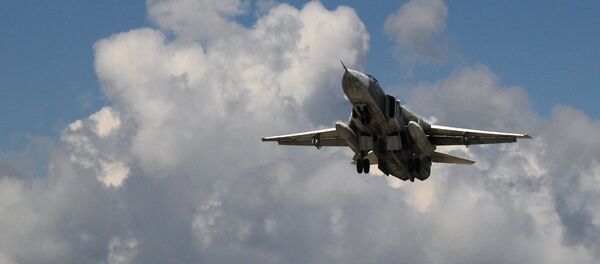 9 October 2015, 19:13 GMT
Syrian General Staff Lt.-Gen. Ali Abdullah Ayyoub said Thursday that the country's Armed Forces had launched a large-scale operation to retake occupied areas from the terrorists.
The Syrian government's forces launched the offensive after Russia's Sukhoi Su-25, Su-24M and Su-34 attack aircraft, with the support of Su-30 jets, had commenced precision airstrikes against ISIL targets in Syria on September 30, following a request from Syrian President Bashar Assad.
Russian airstrikes that destroyed ammunition depots and militant bases in the valley and in the major city of Jisr al-Shughur, a stronghold of militants, seriously undermined the militants' fighting capabilities and provided the Syrian army with a possibility to attack, the Syrian general said Saturday.
According to the Russian Defense Ministry, airstrikes have done considerable damage to ISIL command and logistics networks, as well as to infrastructure used to equip suicide bombers.