Since the beginning of the Syrian Civil War, the United States and its allies supported the idea of arming and funding so-called "moderate" Syrian militants fighting against the government of Bashar al-Assad, hoping that it would lead to the overthrow of the government.
The problem for the United States was that al-Assad had an army capable of fighting against the militants supported by the West.
"The United States' efforts to create armed allies in Syria have failed. They failed completely, basically," Lieven told Sputnik.
What ended up happening is the creation of major armed militant groups that aren't willing to come together and agree on any sort of peace settlement, the professor said.
After the United States spent hundreds of millions of dollars to train and equip Syrian militants, there were less than ten rebels actually fighting against ISIL in Syria. Others have simply vanished or what's even worse ended up joining the al-Nusra Front, the al-Qaeda affiliate in Syria.
With recent airstrikes on ISIL targets, Russia has decided to play a more important role in Syria, trying to actually solve the conflict that has been going for four and a half years now.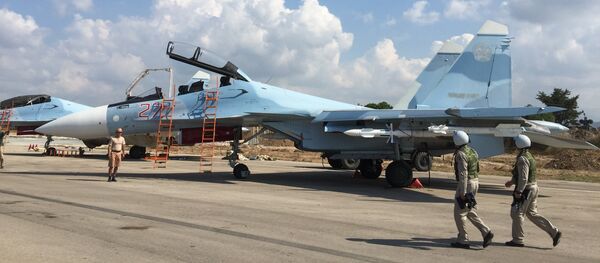 10 October 2015, 11:29 GMT
Right now what is Russia doing in Syria is essentially providing air support to the Syrian army so that they can take over territories from ISIL and other Islamic militants, Lieven explained.
The logic of the Russian government is clear — one should support the government of al-Assad and his army, as it's the only force that can get rid of ISIL on the ground, the professor pointed out.
Since the US strategy of arming various factions of militants fighting against al-Assad failed and led to the destabilization of the entire region, it'd be a better idea now to support the Syrian government so it can at least get rid of ISIL.
Islamic State