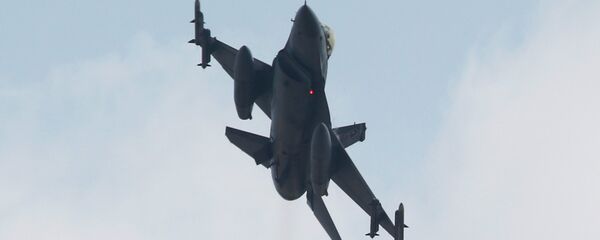 9 October 2015, 18:40 GMT
The three jets were among 12 F-16s patrolling the border when they were interfered with for two minutes by Syria-based missile systems. They were also harassed for 35 seconds by two SU-22s and one SU-24 planes, the general staff statement said.
Last weekend, Turkey reported two incursions by Russian fighter jets into its air space and said a MIG-29 fighter jet and Syria-based missile systems also "interfered" with its air force patrols, in developments described by NATO as "extremely dangerous" and "unacceptable".
Earlier this week Turkey's military said that eight Turkish F-16 jets patrolling the Turkish-Syrian border were harassed by a MiG-29 plane as well as surface-to-air missile systems based in Syria in two separate incidents on Monday.
The MiG-29 locked radar on the planes for 4 minutes and 30 seconds, while the missile systems threatened the planes for 4 minutes and 15 seconds, the military said.
Turkey reported Monday that two Turkish jets were harassed by a MiG-29 on Sunday.