MOSCOW (Sputnik) – Scotland's Labour Party must clarify its position on the Trident nuclear deterrent system, the Scottish National Party (SNP) said as quoted by local media Sunday.
"This has been another week of absolute chaos for the Labour party on the issue of Trident," the UK Press Association quoted SNP member of Scottish Parliament Bill Kidd as saying.
Kidd accused Scottish Labour Party leader Kezia Dugdale of misleading the public over whether Labour supports the ruling Conservative Party's plan to renew the aging system or backs SNP's position to scrap it.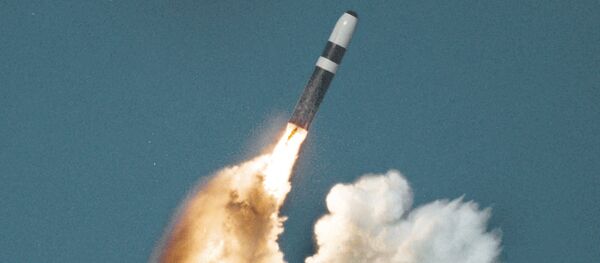 5 October 2015, 19:19 GMT
Kidd demanded from Dugdale in a statement this week "to be straight with the people of Scotland – will they back the SNP in getting rid of Trident or will they back the Tories in spending 100 billion pounds [$153 billion] on weapons of mass destruction?"
British Labour leader Jeremy Corbyn divided the party last week by publicly vowing not to deploy nuclear weapons under any circumstances and opposing the renewal of the Trident program.
On Wednesday, Prime Minister David Cameron said London will acquire four new Trident submarines "in the coming years."
The Trident system is deployed at the UK Royal Navy's Faslane naval base in Scotland, the United Kingdom's only facility capable of hosting the four Vanguard-class ballistic missile-equipped submarines.
British Defense Procurement Minister Philip Dunne has said the so-called "main gate" decision on Trident's successor is expected next year.