The United States must officially backtrack from dominant positions as its operation in Syria proved to be inefficient and even counterproductive.
Its propaganda war against Russia has nothing to do with reality as Russia is the only country which is seeking to reach peace and establish stability in the region, the newspaper wrote.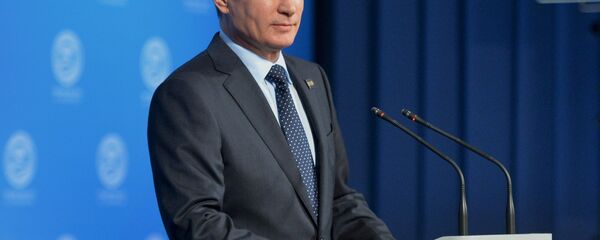 11 October 2015, 15:01 GMT
The United States believed that their policy aimed at weakening entire regions and states through color revolutions, NGOs and other forces of various kinds would help them to achieve their goal and overthrow the Assad government.
However, the goal itself is totally ridiculous, when one takes a closer look at the situation, the article said. The fact that a state wants the head of another state to resign is something extraordinary, not to mention the fact that the US is a remote country, which is neither a Syrian neighbor, nor has it ever been involved in a direct conflict with it.
"There is no reason and no evidence of any misconduct of legal nature — so why should a foreign and remote state be allowed to force a ruler [of another state] to retreat?" the author asked. 
What is contradictory to international law is the US hegemony. The United States has been behaving as if it has the right to enjoy more privileges than any other country, the author added.
At the same time, Russian President Vladimir Putin made it clear that he is an honorable politician who adheres to international law and is interested in peace and sovereignty, the journalist said. According to him, Europe should be thankful to Putin, as he demonstrates neutrality and respects the sovereignty of the countries ravaged by the conflict.