The fate of "caliph" al-Baghdadi is unknown.
The local Shafaq News portal reported citing the Iraqi army's statement that the airstrike had been carried after the intelligence received information on al-Baghdadi's route to a meeting with the leadership of the terrorist organization.
"Iraqi air forces have bombed the convoy of the terrorist Abu Bakr al-Baghdadi while he was heading to Karabla to attend a meeting with Daesh commanders," the statement said.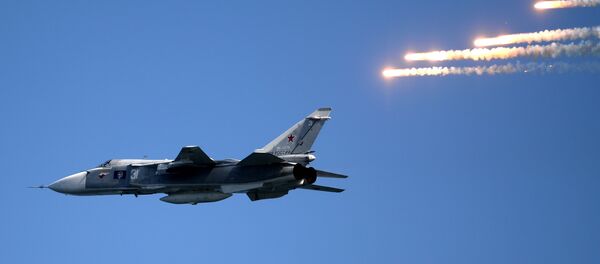 11 October 2015, 10:03 GMT
In November 2014, after an US airstrike speculations had arisen that Abu Bakr al-Baghdadi was injured or even killed. But the US military did not confirm this information.
The Islamic State is a radical Sunni group that has ceased vast areas in Syria and Iraq. It aims to establish an Islamic caliphate on the occupied territories. The radicals have become notorious for numerous terrorist attacks and their mass executions, stoning of women and the beheading of foreigners.
On Wednesday, Iraqi Parliament Defense and Security Committee Chairman Haqim Zamli told Sputnik that Iraq may turn to Russia for military help in the fight against the Islamic State if Russian airstrikes in Syria prove successful.