Just imagine a situation when on one ugly morning in London, Prime Minister David Cameron woke up in a bad mood for no particular reason. After a knock on the door, his servant walked in, put a cup of cold tea with milk on his desk and reported: "Sir, it's time to get up, a great many deeds are waiting for you."
Freed from the shackles of melancholy, Cameron looked at his diary. It read: "9.00 — 9.15. Heroic deed in the name of democracy." The Prime Minister remembered that action had to be taken. When Cameron heard the word democracy his hands learned to automatically dial Michael Fallon, the Minister of Defense.
"Are there any places left on Earth where democracy needs to be protected, Sir? I mean, places where our friends from the United States haven't defended democracy yet?" — Cameron asked Fallon.
"Our friends are defending democracy everywhere, Sir. However, they won't mind if we join in," — the Defense Minister replied. "I just found out that they're willing to give us their barracks in the Baltic States, while they head to Italy for now."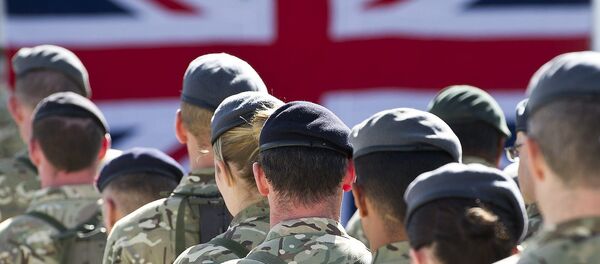 8 October 2015, 07:09 GMT
With pleasure and excitement, the Prime Minister closed his eyes and imagined a parade during which he's greeted with the sound of a military orchestra while sitting on a high horse wearing a helmet full of feathers on top. The scene would definitely suit him and liven up a dull central square in one of the capitals of the Baltic States. Perhaps not even one capital. How many Baltic States are there? Oh well, who cares anyways, Cameron thought.
"Go for it!" — Cameron ordered the Minister of Defense. A media statement followed soon, which said that since Britain is committed to the idea of supporting democracy and the sovereignty of Eastern Europe, the British government will send a military contingent to prevent potential "Russian aggression." The same old tune that seemed to always work to fool the public.
We in the Baltics also used to believe that democracy was a holiday. However, we later discovered that during this "holiday" factories and research institutes, built by Russian "colonizers," are no longer open. The youth is always leaving to Germany and Britain and never comes back. They do send some money to their old parents, who for some strange reason receive fewer pensions than those living in "undemocratic" Russia.
But then EU leaders explained to us the real situation. It could be worse, they said. What if tanks come rolling in or war breaks out? Now we know that there is no reason to worry about little trivial things, such the lack of jobs and money, because, you know what, "democracy" is more important.
We finally realized that our life in the Baltic States isn't bad at all: a bunch of NATO bases around that provide us with some jobs. There is no longer a need to go to London to wash dishes after the British. Instead, they'll come to us and bring their dishes with them. And we'll gladly wash dishes after the British here.