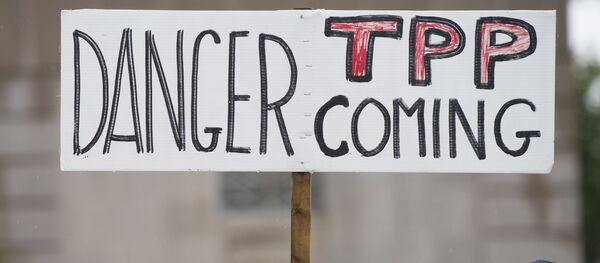 7 October 2015, 20:00 GMT
MOSCOW (Sputnik) — The Trans-Pacific Partnership (TPP) deal puts in jeopardy local Malaysian businesses that are not ready to compete with foreign companies, former Prime Minister Mahathir Mohamad said.
"Malaysian companies are not as strong as foreign companies and if a foreign company suffer[s] losses here, it can still make profit from other places whereas this is not the case for Malaysian companies," Mohamad said Saturday at the forum organized by the local National Union of Bank Employees as quoted by The Malaysian Insider.
He added that the deal could result in foreign corporations suing the local government.
"Let's say a few countries are into mining and it pollutes the environment and we stop it, they [the companies] can sue governments for loss of future profits," the former official said adding that "TPP is a very bad agreement."
After years of secret negotiations, the TPP agreement, if ratified, will introduce tariff free trade between the United States, Japan, Australia, Brunei, Canada, Chile, Malaysia, Mexico, New Zealand, Peru, Singapore, and Vietnam.
Uncertain implications of the deal for workers' rights, sovereignty, employment, copyrights and the environment have drawn heavy criticism from many members of governments, as well as labor unions and watchdogs.