"Today, hundreds of thousands of people protested against the free-trade deal between the US and the EU. Germans are very pedantic, and they understand that a weaker economy always loses to a stronger one. If Ukrainians had realized that they would have taken to the streets against the free-trade deal between Kiev and Brussels. But now they have to pay for the reckless Maidan revolution," Kornilov wrote on his Facebook page.
More than 250,000 people gathered on Saturday for protests in Germany in what was Germany's biggest rally against the Transatlantic Trade and Investment Partnership (TTIP).
"This is the biggest protest that Germany has seen for many years," Christoph Bautz, CEO of the citizens' movement Campact, was quoted as saying by Politico.
The protest was organized by labor unions, environmentalists, social movements and anti-globalization activists like Attac. The rally goes by the slogan "Stop TTIP and CETA", referring to the deal between the US and the European Union and a similar deal between the EU and Canada.
A non-representative survey by German broadcaster ZDF revealed that 88 percent of the 3,000 respondents said the German economy would not benefit from the deal.
In a Eurobarometer poll from May, 51 percent of Germans said they were against TTIP, and only 31 percent were for.
Opponents have criticized TTIP for what they perceive as "opaque negotiations carried out away from public scrutiny, and of the potential role of arbitration tribunals in disputes between investors and governments," the article read.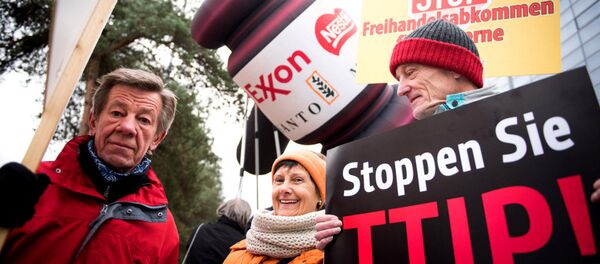 10 October 2015, 13:33 GMT
Many in Germany fear that the deal would deteriorate the standards of social services in the country, and would undermine the regulatory mechanism of environment protections.
The trade deal between the US and EU has also been opposed by the Greens and Der Linke parties.
The Transatlantic Trade and Investment Partnership (TTIP) between the European Union and the United States is aimed at creating the world's largest free trade zone that would account for 60 percent of global production.
The deal has drawn criticism from the public for the lack of transparency in its negotiations and the power it would give to international corporations.