Russia expects serious export potential for the Armata platform, including the T-14 MBT, which were shown to foreign delegations at the 10th international Russia Arms Expo (RAE-2015) in the city of Nizhny Tagil in September.
"If we talk about the T-14 Armata, I think the degree of classification will be removed after more trials and development work is done. The vehicle will be adopted by the Russian Ministry of Defense, get a passport image and then will be possible for sales to foreign customers," Khalitov told in TV Channel Zvezda in an interview.
A number of countries, including India and China, were interested in purchasing the T-14 Armata. The need to purchase for China makes sense, since its main battle tank, the Type 99, is a derivative of the old Soviet T-72 main battle tank, with a design that stretches back to the mid-1980s.
The Indian army operates the Soviet-built T-90, which is itself a derivative of the T-72. Delhi also uses other tanks such as the indigenously produced Arjun Mark-1 tank. These have proven unreliable at times, however.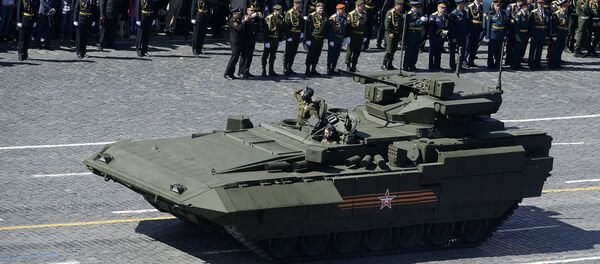 25 September 2015, 17:24 GMT
The Russian Defense Ministry unveiled its new Armata battle tank at the Victory Day military parade held in Moscow on May 9 in celebration of WWII victory over Nazi Germany.
The Armata uses a new type of armor, which designers say is significantly more resistant to enemy fire. On top of that, the vehicle is protected by an improved version of reactive armor, which explodes on impact to stop a projectile from reaching the main layer of armor.
The Armata is also equipped with a so-called active protection system, forming an outer perimeter of its defenses. When the system spots an enemy projectile, it fires a round to destroy it or knock it off its path.
The current version of the Armata is equipped with a remotely controlled standard-caliber 125-mm cannon, with fully automated loading, which can fire both regular shells and rockets.
Designers say that a much more powerful 152-mm cannon could be easily fitted to the Armata in the future.
The tank's modular structure also allows for quick and easy modernization of its elements and systems.