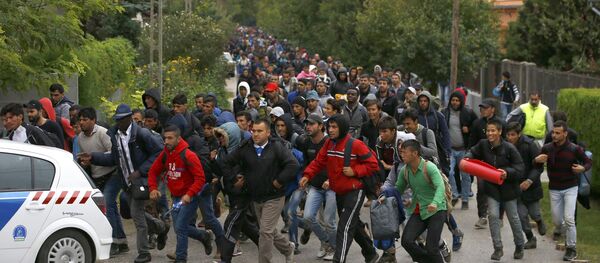 11 October 2015, 03:00 GMT
Vasily Raksha — While brave Internet warriors are battling for the truth behind 
this video
, Sputnik visited Mayor Toroczkai to tell you all you ever wanted to know about him and the role of his small village in the massive refugee crisis in Europe.
It is 10.00 a. m. Saturday in the village of Asotthalom nearly touching the Hungarian-Serbian border. A smiling sprightly man in jeans and a jacket steps out from his sedan near the municipality. No military clothing, no big hulky bodyguards on jeeps. A vigorous handshake. It is the mayor.
"I have to work every day, and fortunately the situation with the illegal immigration is better," Laszlo Toroczkai says instantaneously coming to the point of our talk.
This is what made him the most googled Hungarian figure as of right now – a blockbuster trailer-style video stating that "If you are an illegal immigrant, Hungary is a bad choice and Asotthalom is the worst."
The Video's Target Audience
An interesting peculiarity is that the video is in Hungarian and has English subtitles, which is why Arab and African migrants won't probably get the point. So who is the real target audience? And why call label your village "the worst?"
"Asotthalom is the best place for those people who respect the laws and Asotthalom is the worst place for criminals because illegal migrants are criminals and illegal immigration is a bad crime," the mayor elaborated.
Stressing that human trafficking is a huge business for mafia and organized crime, Toroczkai said that he has often participated in patrolling the border with the police and has seen many human traffickers who threaten local policemen and residents.
"Human smugglers were the primary target of the video and they understood this message, believe me."
© Sputnik / Oksana Bobrovitch
Ásotthalom, Hungary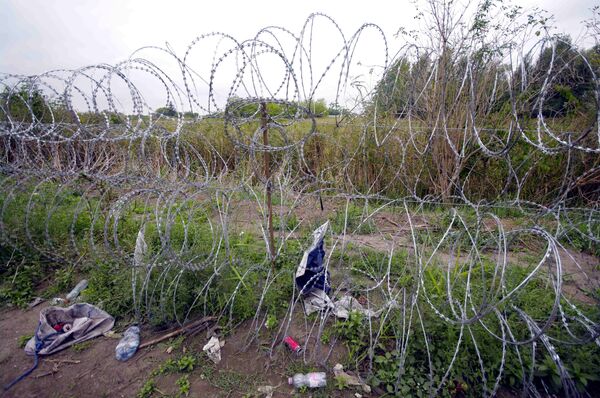 Ásotthalom, Hungary
© Sputnik / Oksana Bobrovitch
Once, smugglers had a violent clash with Asotthalom police and two of them were hospitalized as well as the policemen. Later, a group of smugglers were arrested in the village.
The Best Employees of Asotthalom
Toroczkai criticized the Croatian government, scolding it for fueling this impropriety. Currently Croatia is the main migrant route to Hungary.
"The Croatian government carries migrants from the Croatian-Serbian border to the Croatian-Hungarian border acting just like human traffickers. And no one talks about it."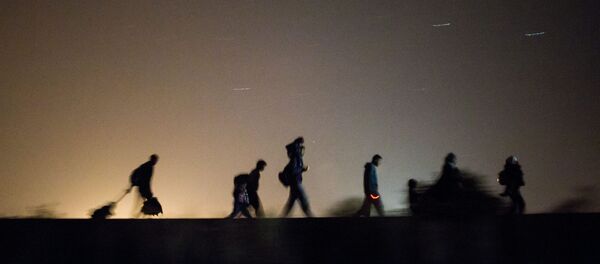 10 October 2015, 21:58 GMT
As for the Hungarian-Serbian border, where Asotthalom is located, the situation relatively scaled down when the government sent the Army to protect the border wall. However, the mayor wants the government to build a better fence there. Now migrants are moving across the village in few groups at night, trying to cross as fast as they can, as "it is unsafe for them here."
What the visitors first notice entering Asotthalom is a traffic sign depicting a crossed-out man with a bag behind his back. The mayor explained that the broad meaning of the sign is that "we do not welcome criminals here," however, it originally targeted a specific crime where swindlers distracted residents by offering things for sale, while their accomplices robbed the house.
© Sputnik / Oksana Bobrovitch
Mayor Toroczkai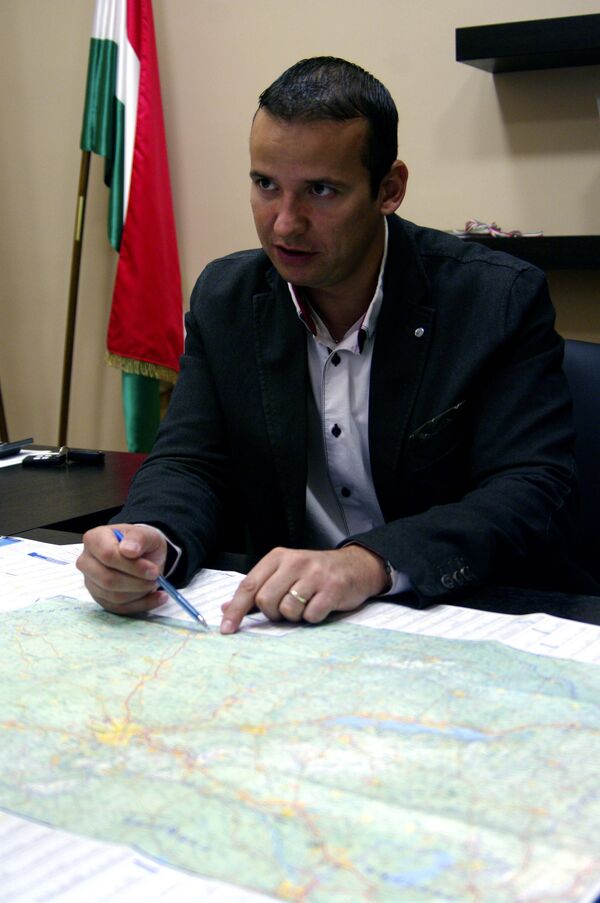 Mayor Toroczkai
© Sputnik / Oksana Bobrovitch
Citing statistics, Toroczkai said that it is a "special Gypsy-style crime, traditional for Europe, and there are a lot if Gypsies in Hungarian prisons. But this is not racism, this is a fact". He underscored that he has no personal prejudice against Gypsies and the three best employees in his municipality are actually Gypsies.
"Gypsy-style music is a big part of the Hungarian folklore, and people love it. We will be holding a concert with Gypsy singers in our town, you can see posters outside."
'My Wife is a Migrant'
Toroczkai ruled out any accusations of racism, which some people found in the video:
"Asotthalom is not a racist place. We do not have any problems with other nationalities and races."
10 October 2015, 13:54 GMT
He shared his personal story of marrying an ethnic Romanian Orthodox woman from Moldova. His wife spent ten years waiting to obtain Hungarian citizenship, has never broken the law, and doesn't even throw rubbish in the streets. They have two children and are expecting their third baby.
The mayor said that he is proud of his Hungarian identity but noted that Hungarians are a mixed nation just like their neighbors in the Central Europe.
He recounted that his great grandfather, an Austro-Hungarian Empire soldier, married an Italian woman, and bearing his wife's nationality in mind, his kids have "only 40 percent of the Hungarian blood, which is not a problem for me".
"Yesterday we were watching a football game between Hungary and the Faroe Islands [2:1] and my wife was even a louder supporter of our team than me!"
Torockai first met migrants face to face three years ago. Kosovars arrived in inclement winter and Asotthalom residents rushed to supply them with food and render all needed assistance. "Our doctors saved a lot of Kosovar babies who might have not survived in the cold."
The Mayor's Blood-Chilling Night Time Encounter
Virtually all asylum-seekers we have met in Hungary unanimously claim that they want to enter "big Europe" through Hungary and are not going to settle down here. So why build fences and not let them just pass farther …?
"… across my house, my farms, across our farms, across this village?" the mayor pondered the question. It touches a raw nerve for him, evoking painful memories, and Laszlo Toroczkai shared the story of his first encounter with migrants amid the current crisis.
"Migrants intercepted while trying to cross the fence," the post reads.
The mayor lives in farm right at the border and he became one of the first witnesses of the expanding influx of migrants. His neighbor's wife was alone in her house with three little kids when a group of "exclusively young male migrants" broke into her garden at night and wanted to enter her house.
© Sputnik / Oksana Bobrovitch
Ásotthalom, Hungary
Ásotthalom, Hungary
© Sputnik / Oksana Bobrovitch
Sometimes they do it just to charge their cell phones, sometimes the wait for human traffickers in abandoned houses.
"But imagine when you are alone and you are a woman with children and a group of men from Islamic or other countries want to enter your house at night on your farm!"
The mayor's family was trapped in a very similar situation.
"My wife woke me up, she was afraid, there were some 40 people, and I ran out of the house with a non-lethal pistol – not to shoot but to scare them off. You would do anything in this situation."
"I Have Nothing Against Refugees"
During our conversation Laszlo Torockai several times emphasized and reiterated that he has nothing against refugees. He draws a line between those who are saving their lives (asylum-seekers) and those who are looking for easy money and benefits (economic migrants).
© Sputnik / Oksana Bobrovitch
Mayor Toroczkai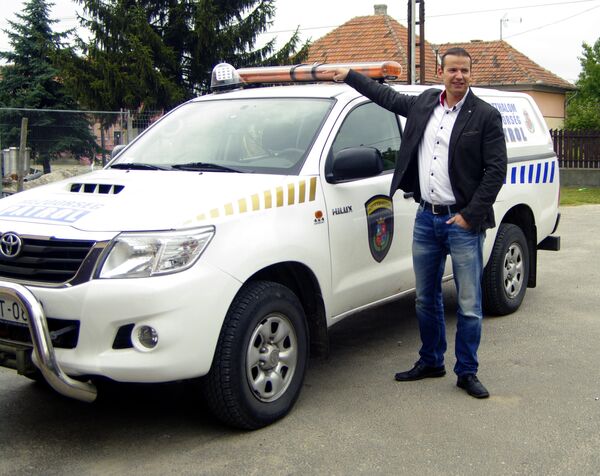 Mayor Toroczkai
© Sputnik / Oksana Bobrovitch
Toroczkai argues that Hungary is full of purely economic migrants who are not real refugees, including those from Pakistan, Bangladesh and African countries which are free of wars. When he meets migrants, he always asks them two questions: where are your family, kids and wife, and what are you going to do in Europe?
One of the typical answers Toroczkai gets is like this: "I want a Mercedes Cabrio in Monaco", an African man told him. Citing statistics, the mayor emphasized that of all the illegal immigrants in Hungary, 83 percent are young males and only 17 percent are children and women – those whom he considers true refugees. In his book, a man must defend his homeland instead of leaving it in danger.
"You know, if there is a war in my village, in my country, then my wife and my children will be refugees and I will stay at home to fight for my village and for my country."
He stated that if a person agrees to abide by the law in Asotthalom, he or she would not have any problem.
"Laszlo's Paranoia" That Turned Real and EU's Tacit Approval of a Border Fence
Laszlo Toroczkai points out that he anticipated that the migrant problem would grow like an avalanche two years ago when he was elected mayor. He sent messages to the government but no one considered his warnings feasible saying that it was "Laszlo's paranoia."
But his grave prognosis turned real.
© Sputnik / Oksana Bobrovitch
Ásotthalom, Hungary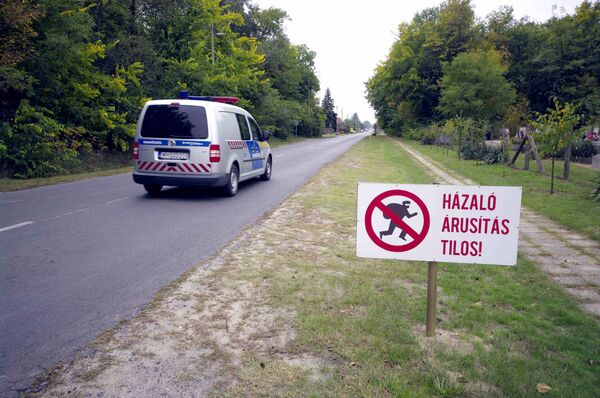 Ásotthalom, Hungary
© Sputnik / Oksana Bobrovitch
Toroczkai assured that he was the first man who had voiced the idea of building a border fence to the media. The leaders in Budapest didn't take his proposal to heart, as it populistically was against popular EU opinion which initially opposed constructing the wall, the mayor commented.
But then a covert U-turn occurred this summer: the next day after a meeting of EU home ministers, Budapest ruled to erect the wall.
"The EU didn't allot money for building the wall but neither did it try to stem the initiative. Hungary got a green light".
Citing ghettos in France and the UK, Laszlo Toroczkai feared that the powerful migrant influx may destroy Europe because so many people, arriving in several months and bearing different cultures and religions, cannot integrate and assimilate. It "could even lead to a bloody conflict."
He scolded the German chancellor for inviting people to Europe from all over the globe en masse and pursuing an "open door policy." He accentuated that a billion people from Africa and two billion from South Asia, 90 percent of them, would eagerly move to Europe, as they said to him.
"Angela Merkel just told them: come, come, you may cross illegally, you will get everything, you will get more money, you will get new cars, you don't have to work. You know, if I were a mayor in Switzerland, I would earn tenfold more than I do now. But I was born here. Think what may happen to a country when everyone rushes there?"
Laszlo Toroczkai's Anti-Crisis Strategy
The Asotthalom mayor suggested three steps to resolve the migrant crisis.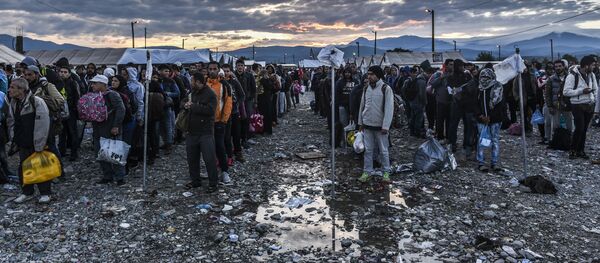 9 October 2015, 14:20 GMT
The basic principle in his strategy is that refugees should find shelter in "the first safe countries" (closest countries without war) near their conflict-struck homelands. This means that Syrians should be accepted in Turkey, Jordan, Lebanon, Saudi Arabia.
So his first suggestion states that the EU and the US, as Washington bears responsibility for the inception of the whole havoc, have to financially support refugee camps in the first safe countries and create high-quality living conditions there so that asylum-seekers could wait out the wars and return home.
His second suggestion is the protection of EU borders because of threat's of terrorism.
"I am sure a lot of terrorists will arrive to Europe across Asotthalom. There are many ISIL terrorists in Europe."
And his third point was a global policy to stop and avert wars, but that is the duty of national leaders.
With a sad sarcastic laugh Toroczkai said that finally after two years EU heads are proposing the same ideas that he voiced back in 2013.
Bloody Knives, "Prisoners on Farms", One Good Point in Immigration and What Western Press Concealed
Elaborating on the second, most difficult point, the village head tells us a fresh story about a man who lives at the border. He found several cell phones left by migrants and those phones contained the videos and pictures of beheadings, killing children and training kids to shoot with real weapons.
"These videos were shot with those phones. This means that their owners either participated in all those atrocities or stood nearby. They were terrorists or participated in the Syrian war."
Toroczkai also recalled a violent clash between two groups of Afghani incomers on the Serbian side near the border. One person was killed and two were wounded. His Serbian neighbor called him to warn that the murderers were running toward Asotthalom. Toroczkai informed the police chief in his county and the criminals were caught. The scene in Serbia was a shock for him:
"Blood, blood everywhere, bloody knives all over the ground," he recounted with a shiver. "Police always find knives on the migrants."
He explained that Asotthalom is a recreational place where people go to spend time enjoying nature, working on a farm, or going for a walk into the forest.
But because of migrants, people are afraid to enjoy these activities, as the incomers "do not want to show their IDs, do not want police to be able to recognize them, and you don't know who they are and whom you can face in the forest."
© Sputnik / Oksana Bobrovitch
Ásotthalom, Hungary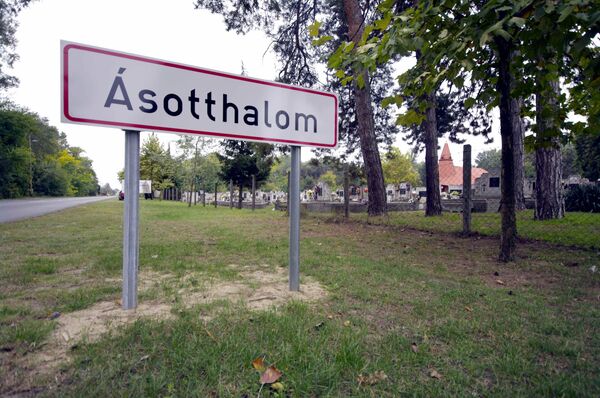 Ásotthalom, Hungary
© Sputnik / Oksana Bobrovitch
"We are now prisoners on our farms. People's calm lives are destroyed, and the people want them back."
The mayor added that similarly to neighboring Morahalom, Asotthalom attracts tourists with thermal water resorts and he wants to develop the industry. Morahalom welcomed 500,000 visitors annually but this year a lot of people cancelled their booking in fear of the migrant crisis.
Toroczkai recalled western reporters who asked him why he "didn't respect migrants' dreams" but never published his answer. Sputnik has his answer here, published for the first time:
"When their dreams destroy our dreams, I will not respect such dreams. Everyone is talking about their rights but forgets about our people. We pay taxes and have a right for a calm life, and our state must protect us."
Fortunately for Asotthalom, the migrants have not committed any violent crimes. They only steal property, fruits and vegetables [totaling damage of nearly 100,000 euros to private agriculture businesses], and constantly scatter rubbish over the street. Sometimes they hijack bicycles and head to Vienna, with police intercepting them on the highway.
"The good point in immigration is that their rubbish has created three jobs in our village! I hired three people to clean the streets after migrants."
Poroshenko, Don't Send Hungarians to Donbass War
Asked to imagine if Hungary shared a common border with Syria, Toroczkai reiterated his principle of "the first safe country" and vowed to accept refugees in this "hypothetical" case. He added that Hungary would also welcome ethnic Hungarians from Ukraine whose government suppresses their rights.
"The Ukrainian government is catching young Hungarians in Transcarpathia [Zakarpattia Region in Ukraine's west] and sending them to the war [in Donbass] as soldiers. But this is not their war!"
He said he would be the first person to embrace Ukrainian and Russian refugees if needed and added with a surprise that no Ukrainian refugees had arrived so far.
The mayor underscored that in the 1990s Hungary was the first country that welcomed Muslim Bosnian refugees amid the Yugoslavian crisis and this did not create any problems.
© Sputnik / Oksana Bobrovitch
Mayor Toroczkai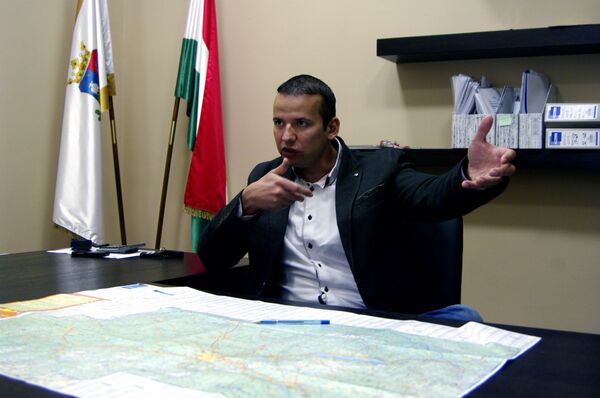 Mayor Toroczkai
© Sputnik / Oksana Bobrovitch
And what if a migrant from the Middle East wants to settle down in Asotthalom and lead a life of a law-abiding citizen?
"I have no problems with those people who would like to live in Hungary, who respect our laws and our culture and our nation." 
Who Prays for Toroczkai and What Exactly Does the Video Show?
Laszlo Toroczkai is happy with the splash his video made online. He said he received multiple messages of support from "the whole of Europe from Ireland to Russia" and added that different organizations wanted to cooperate but he currently wants to focus on Asotthalom. 
"One cute woman in Norway even prays for me every day about the fence protection."
He asked the government for additional funds to tackle the new problem and last December Budapest added 14,500,000 forints to his annual budget of 500,000,000 (over 1,600,000 euros). He is going to ask for 20,000,000 more. In particular, he needs to pay salaries to the three new employees who clean streets of garbage left by migrants and to buy gasoline for police patrols.
Moreover, he plans to air a similar video with Arabic subtitles and he anticipates a wave of threats. But the mayor holds his ground and said he is ready to accept the challenge:
"It is my life. And it was not easy. I already received threats, so no problem."
There are some peculiarities in the video. The village sends regular patrols to check the border fence, and the village's "security forces" comprise policemen, retired policemen and civilian volunteers.
They drive two cars. "We had a Niva – it's a good car for difficult terrains and it's sufficient to catch immigrants. But human smugglers have fast jeeps, and the Niva can't chase them, so we asked the government to buy us a Toyota. But they denied our request and then I published a petition on my Facebook page." People amassed 5,500,000 forints and bought the car for Asotthalom.
"One French organization donated a million forints and said they would send in tanks for our job".
You might be surprised but the village does not have a legion of soldiers, which means that the video's director is indeed a talented man.
Comparing his past experience of being prohibited from entering Serbia and Slovakia to his desire to stop illegal immigration, Toroczkai points out that he was banned exclusively over political reasons but nevertheless he never attempted to breach the ban and illegally cross the border with Serbia, though it was a purely formal one, without rivers and mountains, so that someone could easily cross it stealthily.
I Would Send All Illegal Immigrants to US, Everybody
Laszlo Toroczkai lashed out on the US, blaming it for plunging Libya and the Middle East into chaos and creating a migrant crisis for Europe.
"Look at Libya. Under Gaddafi, Libya prevented migrants from entering Europe. But the US and European armies killed him, destroyed his regime. And now Libya can't stop migrants from crossing the Mediterranean Sea."
He thinks that destroying the governments in Libya, Iraq and Syria was a grand mistake.
"I hate when European and US politicians want to send democracy to Arab states because they don't know these countries, they don't know these cultures."
"Those governments were different from their European counterparts but is it a reason to bomb those countries?" – argued the mayor. He slammed US hypocrisy and their double standards.
"The US has no problems with Saudi Arabia where police behead people in the streets – it is okay for the US, but Assad is a problem for them."
"So the US and Europe sent democracy to Syria – and now we've got everybody from there!" he exclaimed, underlining that Syrians did not migrate to Europe during the earlier rule of Assad.
© Sputnik / Oksana Bobrovitch
Ásotthalom, Hungary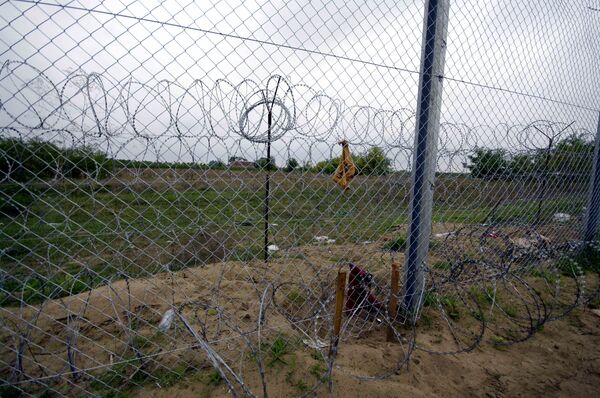 Ásotthalom, Hungary
© Sputnik / Oksana Bobrovitch
Toroczkai claimed that 80 percent of the migrants in Hungary are from Syria and Afghanistan – the countries experiencing the "benefits" of US foreign policy that "destroyed peace there." Refugees from those countries would not emerge if Washington hadn't targeted them, the mayor said.
"I would send all illegal immigrants to the USA, everybody."
He is very angry with those who support Washington and attack Budapest's fence initiative.
"The US has a big hard wall on the Mexican border. Our fence is nothing in comparison with that."
But who cares about the US-Mexican border?
Russia is Doing Right Thing in Syria but Crisis Won't End
Laszlo Toroczkai voiced his "absolute" support of Russia's actions in Syria. He praised Vladimir Putin's decision to combat the Islamic State as there is unfortunately hardly any alternative to a military solution, the mayor said.
"Russia's policy will change the world."
"God bless Russia," the post reads.
However, Syria's infrastructure and economy are so crippled that even the utter destruction of ISIL will not restore peace in the country, and the crisis will not be over, he suggested, as there are also other terrorist groups such as al-Qaeda and the Nusra Front.
"United States of Europe" is Not My Cup of Tea
Toroczkai praised Hungary's EU membership as "small European countries need a common idea and it's better for their economy" but opposed those who wanted to diminish the EU countries' sovereignty and merge them into "the United States of Europe" like, for example, former Prime Minister Gyurcsány Ferenc.
Assessing the current developments in Europe, the mayor said that only the so-called V4 group (Hungary, Poland, the Czech Republic and Slovakia) have strong movements against illegal immigration. However, he added, public opinion is changing.
"Earlier 80 percent of Germans supported welcoming migrants. Now it has gone down to 40 percent. And Merkel is also going down".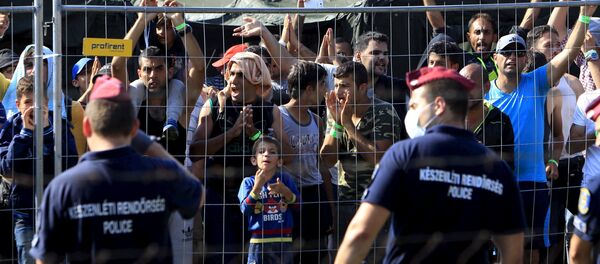 18 September 2015, 12:00 GMT
In conclusion Laszlo Torockai said with an ironic smile that he was first very angry with illegal immigration. But now he sees that it is pushing public opinion in Europe closer to his views.
Lastly, some mass media quickly ridiculed the mayor for his video without making the effort to go into details. Hungary is a remarkably calm country and the more you travel into its "backyard", the more serene people's life is. If such "a trifle" as throwing rubbish off the litter-box is considered outrageous, just imagine what stress residents receive when scores of unfamiliar people rush across their property at night, violating the law.
Asotthalom with its placid population of less than 4,000 people who depend on agriculture, have unexpectedly turned into a gate for the masses running to Europe. And acquring ONE car for police was a "global challenge and a global success" for the village. The situation is not as plain as some presented it.  
An elderly woman in Asotthalom described how migrants are running over her garden at night.