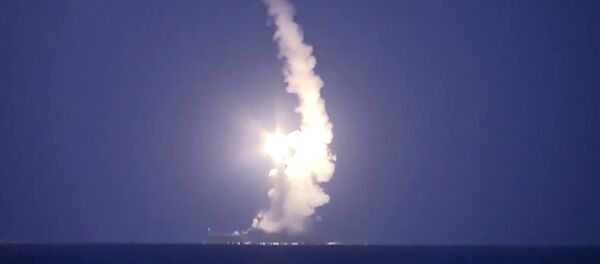 8 October 2015, 12:48 GMT
Russian Kalibr-NK cruise missile system' launch from the Caspian Flotilla of the Russian Navy on October 7 has been ignored by many military analysts, but in fact the opportunity to conduct high-accuracy strikes at a distance with small, inexpensive and relatively simple vessels is crucial, the American portal Defense News says.
Prior to that, Russian ships in the Caspian Sea were considered only as a local force, but now it has become clear that Kalibr high-precision cruise missile systems, which are similar to the US Tomahawk, can be also launched from small craft, such as Buyan-M missile corvettes. It is obvious that naval experts underestimated the growing hitting power of small vessels, the Defense News quoted a joint military operations professor at the US Naval War College Milan Vego as saying.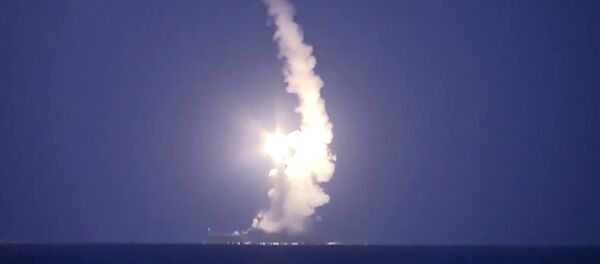 12 October 2015, 10:34 GMT
Some targets in Syria could be hit by other means so, according to US officials, as quoted by Defense news, the launching of Kalibr-class cruise missiles was intended to make it clear to the world that Russia has this technology and that the country can deploy it.
According to Washington-based naval expert at the Center for Strategic and Budgetary Assessments Brian Clark, Kalibr  missiles turned Buyan-M into a ship of 'distributed lethality'. This approach allows installing rockets on several small vessels, dispersing them in a way to be less visible, and combining them to obtain the desired impact force, explains Clark. The United States sought to implement this concept, says the expert, but Russia has shown that it has already achieved.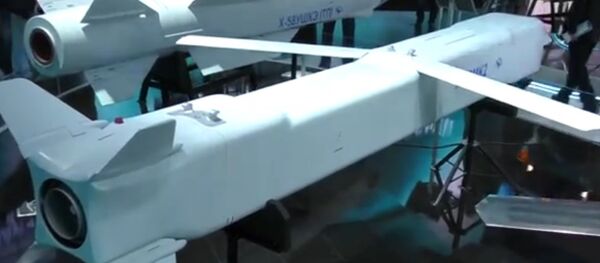 12 October 2015, 18:25 GMT
The analyst points out that small Russian missile ships with a displacement of 900 tons are harder to detect than the American coastal zone warships  (LCS — Littoral Combat Ship) with a displacement of 4,000 tons. According to Clark, Buyan-M corvettes can be bought in large quantities, and, compared to the LCS,  "surface-to-surface" missiles can be also deployed on them, so to have even more effectiveness than the one sought by the United States. The US is developing an enhanced version of the LCS, but it is unlikely it will be as good as Kalibr cruise missiles, says Clark. According to him, the US Navy should be ashamed they let it happen.