Earlier, a UK defense source told the Daily Star Sunday tabloid that British and NATO pilots reportedly had been given clearance to shoot down Russian jets over Iraq. UK defense sources stressed that RAF pilots have been told to avoid contact with Russian jets "at all costs," but warned the pilots must be prepared to attack Russian jets "if their lives depend on it."
The Royal Air Force's (RAF) Tornado combat aircraft are equipped with up to four Advanced Short Range Air-to-Air Missiles (ASRAAM) to shoot down any Russian jet they encounter.
"Why is there in fact even a talk about hitting Russian jets that aren't even in Iraq? What is this? An attempt to warn us to avoid the Iraqi sky, despite the request of the government of the country from the very beginning of our operation in Syria?" Nadein-Raevskiy, a senior researcher of the Institute of Global Economy and International Relations at the Russian Academy of Sciences, asked during an interview with Radio Sputnik.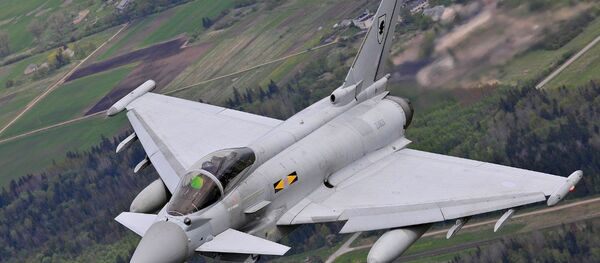 11 October 2015, 15:22 GMT
US and UK fighter jets have been unsuccessful in Iraq. It seems they're indeed trying to protect their own jihadists, whom they nurtured from the very beginning, from Russian airstrikes. "This leads to very unpleasant conclusions," Nadein-Raevskiy said.
Russia takes all information concerning its fighter jets and the lives of Russian pilots very seriously. That's why, it's necessary to find out if the information is true.
If the information turns out to be true, then it's a clear provocation on behalf of Britain. Seeing how successfully Russia is fighting ISIL in Syria, the British fear that Moscow has strengthened its credibility in the Middle East too much and it hurts their ego, the expert concluded.
Russia launched precision airstrikes against Islamic State targets in Syria last week at the request of Syrian President Bashar Assad.