Moscow has impressed the world by stepping in to back Syrian President Bashar Assad's effort to destroy the Islamic State and put an end to its efforts to create a fundamentalist caliphate that practices slavery and ethnic cleansing. Now visitors to the Russian capital can dress to show their solidarity: "Support Assad" T-shirts are currently available at a military clothes shop in central Moscow, Russian businessman Ilya Varlamov said on his Facebook page on Monday. 
Спустя неделю после начала военной операции в Сирии Министерство Обороны выпустило новую линию одежды. На майках напечат…

Posted by Varlamov on 12 октября 2015 г.
"A week after the beginning of [the Russian] military operation in Syria, the country's Ministry of Defense released a new clothing line. There are T-shirts depicting [Russian] airstrikes against positions of Islamic State militants as well as calls to support President Assad," Varlamov said.
Specifically, such T-shirts are on sale at the Army of Russia shop on Tverskaya Street in the heart of Moscow, according to Varlamov.
Army of Russia officially selling those T-shirts in its stores: "Support Assad!" pic.twitter.com/t2Z7NsBGFX

— English Russia (@EnglishRussia1) 12 октября 2015
Moscow's move to take in Crimea following the 2014 Ukrainian coup was hugely popular with the people of Russia, prompting the appearance of a spate of T-shirts featuring the image of Russian President Vladimir Putin and slogans such as "Crimea", "the Most Polite Person" and "They Won't Catch Us", which went on sale in the country. 
At the time, the Russian President's press secretary Dmitry Peskov said that Putin hadn't officially endorsed the commercialization of his image. However, the T-shirts were a smash hit; they're now even available in vending machines.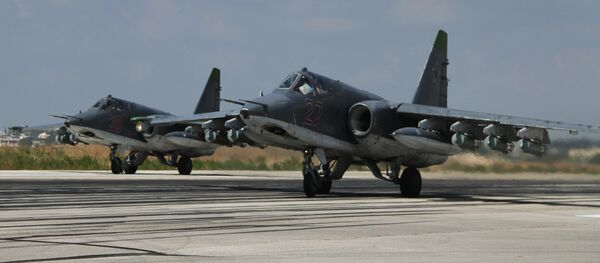 13 October 2015, 02:21 GMT
On September 30, more than fifty Russian aircraft, including Su-24M, Su-25 and Su-34 warplanes, commenced precision airstrikes on Islamic State targets in Syria at the behest of Syrian President Bashar Assad.
Earlier that day, the Russian upper house of parliament had unanimously supported the request of President Putin to deploy units of the Russian Aerospace Forces abroad.
Syrian Ambassador to Russia Riad Haddad said, for his part, that Syrian Army strikes, supported by the Russian Aerospace Forces, were carried out against armed terrorist organizations, not political opposition factions or civilians.