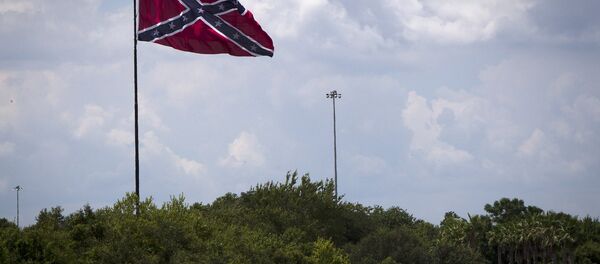 25 September 2015, 21:07 GMT
A grand jury passed down indictments Monday against 15 members of the "Respect Our Flag" group, months after the gang harassed and threatened a black family celebrating a child's birthday in Georgia several months ago.
The party in Douglas County on July 25 was crashed by a group of white men driving pickup trucks waving the Confederate flag, who witnesses say shouted racial epithets and brandished guns, a crowbar and a knife.
County District Attorney Brian Fortner's office is prosecuting the defendants to the fullest extent of Georgia's anti terroristic threat law.
"The individuals charged will be arraigned, will have the charges presented to them, then [comes] the process of giving them their due process and their day in court," Fortner told Channel 2 Action News.
The state's law on which the terrorism charges are based, known as the Street Gang Terrorism and Prevention Act, was "worded very broadly to deal with any type of activity that occurs with a group that's organized that commits a crime," the New York Times quoted Fortner as saying.
The Confederate flag has been under extreme scrutiny in the US following the terrorist massacre at a Charleston Church prayer group meeting that left nine innocent people dead.  The shooter, Dylann Roof, was a supporter of the Confederate symbol.
The removal of the Confederate flag from the state's Capitol grounds upon Governor Nikki Haley's authorization sparked protests from groups who support the flag, including white supremacists.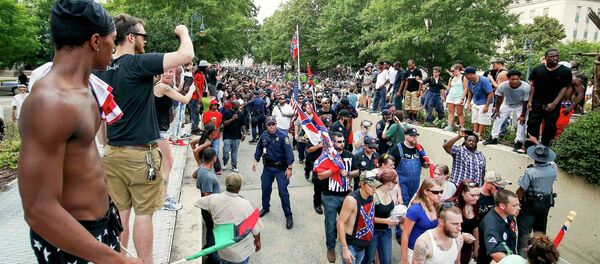 Experts told the New York Times that the state's "anti-gang" statute has never been used on white supremacists before.  
LeeAnne Lynch, a public defender in DeKalb County, Georgia, was one of several lawyers who challenged the law's constitutionality after it was passed in 1992.  She told the Times she believes the law is too broad, and identifies people as a gang just because they were  "wearing certain types of clothes or have a group motto that they share." Prosecutors, she argues, misuse the statute to "load up" charges to pressure defendants to a plea deal.  
Others, including Morris Dees, the founder of the Southern Poverty Law Center and its chief trial lawyer, support the use of the statute to bring charges against the "Respect Our Flag" group. Dees said it was "a very good use" of the statute.
"I don't know why it hasn't been used before" against this kind of group, he told the Times.