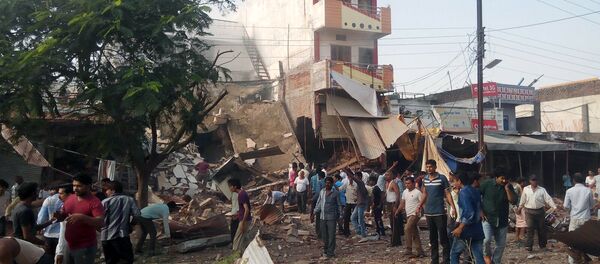 12 September 2015, 05:46 GMT
The unnamed homeless man in his late 40s had been found by police officers who took him, unconscious and suffering from numerous infections, to a Mumbai hospital on Sunday morning.
The seemingly lifeless body was sent for a post-mortem autopsy procedure after a doctor at the Lokmanya Tilak Municipal General Hospital declared him dead, Agence France-Presse quoted Mumbai Police deputy commissioner Ashok Dudhe as saying.
"As the autopsy was about to begin, the man awoke triggering chaos after which the doctors rushed to the room. Then they snatched the death certificate from my staff and tore it up," Dudhe said.
Hospital dean Dr. Suleman Merchant claimed the error was forced by police, who asked doctors to check the man's pulse on the side of the road, as law enforcement was rushing to prepare for a visit by Indian Prime Minister Narendra Modi.
"They forced my doctor to examine the patient on the roadside as they wanted to rush back to the prime minister's security duty," the dean said.
"Had the police allowed my staff to take the man indoors, they might have been able to do a better job," he added.
The man was being treated in the hospital for malnutrition, alleged alcoholism, and substance abuse.
"He is delirious still and we are trying to stabilise him. Let's hope the damage from his past can be tackled," Merchant stressed.
The allegations prompted police officer Dudhe to suggest the hospital was "trying to cover up their negligence" by making up the "ridiculous" response to the incident that pinned blame on law enforcement.
Mumbai law enforcement has concluded their internal investigation into the case and sent a report to the commissioner, Dudhe said.
Dead bodies are a frequent problem on Indian streets. Earlier this year Mumbai police recovered 104 bodies from the Ganga River, where they were dumped by families who could not afford cremation per Hindu tradition.