BRUSSELS (Sputnik) — On October 5, Turkish President Recep Tayyip Erdogan proposed a no-fly zone and a safe zone, as well as increased training and equipment for Free Syrian Army (FSA) fighters to decrease the high numbers of Syrians fleeing to Europe and other states.
"We all know that military activities of Russia and Iran in Syria make the [safe zones] concept even more difficult. It is even more difficult to imagine how it will work in practice," the source said on condition of anonymity.
Turkish authorities wrote a letter warning EU leaders of a new refugee influx to Europe should safe zones not be established, the source said.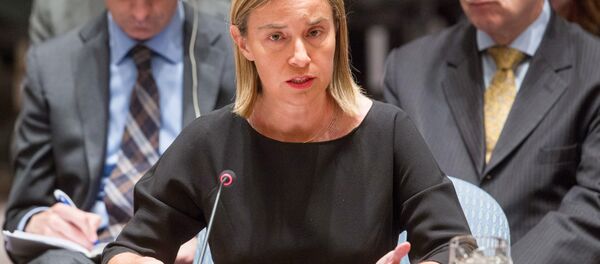 14 October 2015, 15:05 GMT
On Monday, EU foreign policy chief Federica Mogherini said that creating safe zones in Syria would be a difficult task amid Islamic State (IS) activity in the country and Russian anti-IS efforts.
On September 30, Russia began pinpoint airstrikes against IS in Syria, following a request from the country's President Bashar Assad.
Iran, along with Russia, has made extensive efforts to support Assad, delivering military supplies and advice to help Damascus fight terrorism.