The International Humanitarian Fact-Finding Commission (IHFFC) has been activated and is awaiting US and Afghanistan consent to proceed with the independent investigation into the US aerial attack on the hospital in Kunduz, Doctors Without Borders (MSF) said on Wednesday.
The US launched airstrikes on the hospital for over and hour during the Afghan army's operation to take the town back from Taliban militants. The airstrike, carried out by the US on October 3, killed at least 12 members of MSF medical staff, and ten patients, three of whom were children.  An additional 37 people were injured.
"We have received apologies and condolences, but this is not enough. We are still in the dark about why a well-known hospital full of patients and medical staff was repeatedly bombarded for more than an hour. We need to understand what happened and why," MSF International President Dr. Joanne Liu said.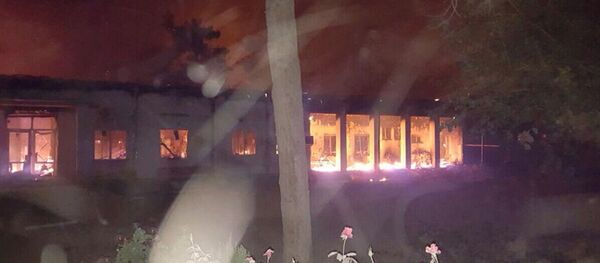 8 October 2015, 23:32 GMT
The IHFFC sent letters to the US and Afghanistan governments to investigate the airstrikes, and is awaiting their response, the organization said. The IHFFC, established in the Additional Protocols of the Geneva Convention, is the only body permanently set up for the purpose of investigating international humanitarian law violations.
"We need to know if the rules of war have changed, not just for Kunduz, but for the safety of our teams working in frontline hospitals all over the world," Liu added.
The organization added that the hospital is no longer operational, leaving tens of thousands of people in an area devastated by fighting without access to emergency medical care.