MOSCOW (Sputnik) — A police officer was killed in clashes with Kurdistan Workers Party (PKK) militants in Turkey's eastern province of Van, Daily Sabah newspaper posted on its Twitter account Wednesday.
No additional details were revealed.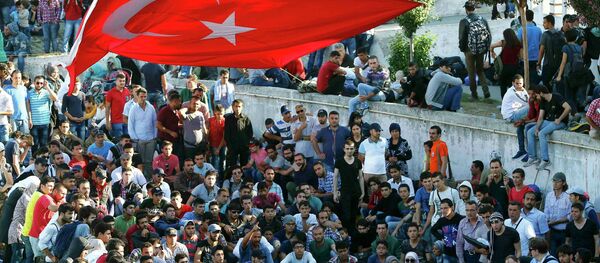 12 October 2015, 12:58 GMT
Tensions in Turkey escalated in mid-summer when the government of the country launched a military campaign against PKK in northern Iraq, after the militant group claimed responsibility for the murders of two Turkish police officers claimed to be aligned with Islamic State.
PKK seeks to create a Kurdish state in parts of Turkey and Iraq. The organization is considered a terrorist group by Turkey, the European Union and NATO, but not by the United Nations.
On Saturday, two suicide bombers detonated themselves in Ankara, killing at least 97 people and injured about 300, ahead of a peaceful anti-war march to protest increasing violence in the Turkey-Kurdish conflict.
Earlier on Wednesday, Turkish Prime Minister Ahmet Davutoglu said that the Islamic State or the PKK could be linked to the Saturday attack.