ANKARA (Sputnik) — Evidence in an investigation into a recent double suicide bombing in Ankara shows that the Islamic State (ISIL) militant group or the Kurdistan Workers' Party (PKK) could be linked to the attack, Turkish Prime Minister Ahmet Davutoglu said Wednesday.
On Saturday, two suicide bombers killed at least 97 people and injured over 500 ahead of a peaceful anti-war rally to protest increasing violence in the Turkey-Kurdish conflict.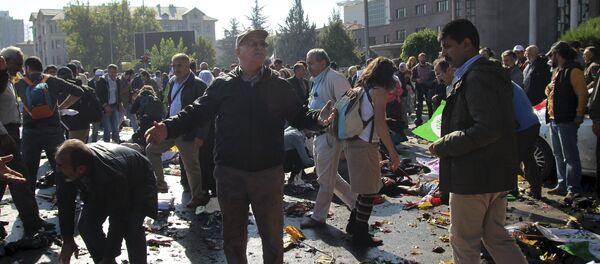 10 October 2015, 07:31 GMT
"It is highly probable that ISIL or PKK are linked to the bombings in Ankara. A critical evidence [in the investigation] is DNA test results of one of the suicide bombers," Davutoglu told journalists at a press conference in Ankara.
No organization has yet claimed responsibility for the deadly bombings. Investigators suspect ISIL to be behind the attack, Davutoglu told Turkey's NTV television on Monday.
Russian and Turkish law enforcement agencies are exchanging information in the investigation, a diplomatic source told RIA Novosti on Tuesday.