On Wednesday, Syrian Armed Forces began a large-scale operation to free Jobar and Harasta, two eastern suburbs of the nation's capital Damascus, from terrorists, a military source told Sputnik.
"The army launched a military operation in Jobar and Harasta," the source said, adding that Syria's Armed Forces already took control of several buildings in Jobar.
The operation began in Jobar with limited, precise and effective hits against lines of defence used by armed groups to observe the rest of the capital, according to another source as cited by AFP.
Jobar is one of the main strongholds of Islamists and has been a battleground between government forces and radical militants for over two years. Most of the armed groups operating there are part of the Ahrar ash-Sam movement led by Zahran Alloush. This group has repeatedly shelled the Syrian capital, killing hundreds of civilians.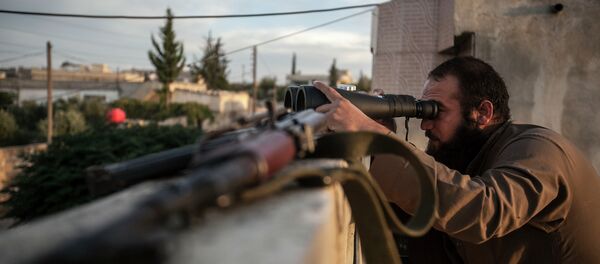 14 October 2015, 06:26 GMT
Syria has been in a state of civil war since 2011, with the government fighting against many extremist groups, such as the Islamic State and the Nusra Front, and opposition factions.
Russia's Sukhoi Su-25, Su-24M and Su-34 attack aircraft, with the support of Su-30 jets, commenced precision airstrikes against Islamic State targets in Syria on September 30, following a request from Syrian President Bashar Assad.
The Syrian troops are taking part in a ground operation, coordinating their actions with the Russian aviation. In recent days, Syrian troops have managed to take control over large areas of the country and cause massive losses to the Islamic State, according to Syrian Armed Forces spokesman Ali Mayhoub.